A Small Storage (For Gloves And Hats) Bench For An Entryway.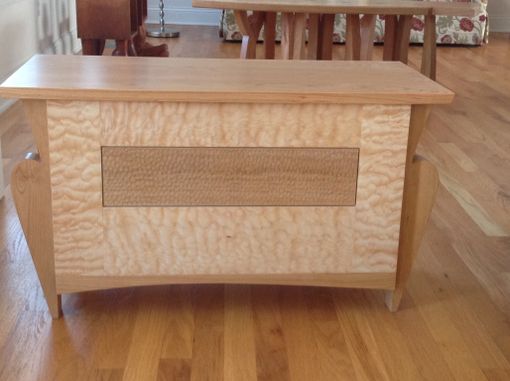 Here's the original request we received: I would LOVE something unique just for my small space. It can be beautifully and artistically hand painted or interesting combinations of different colored wood. It must be beautiful as well as functional: a place to sit and take off your shoes AND able to store gloves, scarves, and hats (NOT shoes).

Here are some details on the project from the maker: I am attaching revised drawing
I do not know how to delete two pictures of model I made so just ignore them since it does not have the bottom rail

The storage bench is 32"-18" high-15" deep in cherry (top, legs, front carved panel, front bottom rail), quilted maple veneer(from Certainly wood Q.MAPLE 1002-16) on rest of bench except the inside the box which will be plain maple)

Top lid with hinges with arm

No panels on the sides and the back
No rails on the back and the sides

Clear satin finish

CT tax and delivery included

Thank you
All of our products are handmade
by expert makers.
Darby W.'s review

• Apr 13th 2014

Katherine was an absolute pleasure to work with. She responded quickly to my MANY MANY questions and worked with me to come up with a perfect design for my storage bench. The bench itself it just stunning; the quality and craftsmanship are superb. I would highly recommend Katherine and her work to anyone wanting a piece of artwork in their home.