Arts & Crafts Center And Rear Channel Speakers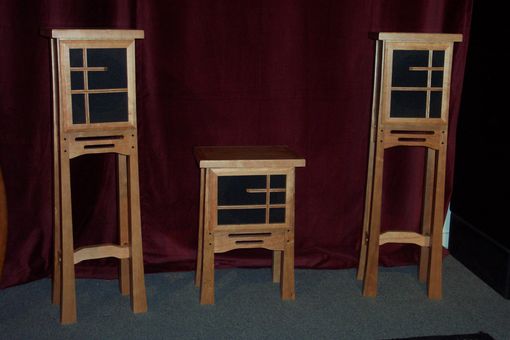 Rear and center channel speakers complete the 5.1 home theater sound system. Variations are available. Just the actual speaker cabinet is available in either black or the wood species of your choice which would work well with on-wall, in-cabinet or in-wall installations, although the best sound can be achieved with free standing speakers.
The speakers in the photo are for a customer with a front projector so the center channel was built to fit just below the bottom of the screen.
Like the front channel speakers shown in another of my listings, these speakers are made of cherry with ebony inlays. The speaker uses a coaxial drivers made in Norway providing impressive bass and clear highs for such a small speaker.
Dimensions: Rear channel- 38" tall x 10.5" wide x 10.5" deep Center Channel- 20" tall x 14" wide x 10.5 deep