Arts & Crafts Closet Door- Green & Green Styling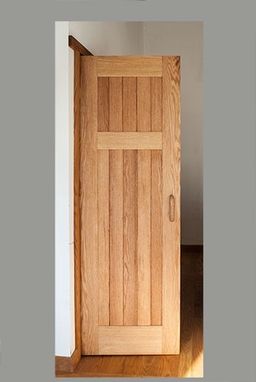 This arts and crafts design closet door was designed to complement an already listed oak Arts & Crafts door meant for an interior room, such as a bedroom or study. The closet door was inspired by a very similar design by Green and Green in the 1910 Gamble House in Pasadena, CA. The design lends itself to having narrower widths for special uses such as linen closets and other small utility closets. The door pictured is a full 79 inches high but only 24 inches wide and is used to close off a stack of linen and blanket shelves. Solid oak is used throughout but other woods my be used as well such as Mahogany or Cherry. The door is latched shut by a simple, hidden magnetic catch. A simple wooden handle is all that shows. The design obviously differs from the listed interior door just enough to avoid any confusion for guests looking for a particular room. Hardware and Hanging to be supplied by others. Cost discounts for quantity orders.
Dimensions: 79" tall, 30" wide, 1.25 inches thick Custom sizing encouraged.
All of our products are handmade
by expert makers.