Bathroom Sink/Base, Shower Bench With Rock And Concrete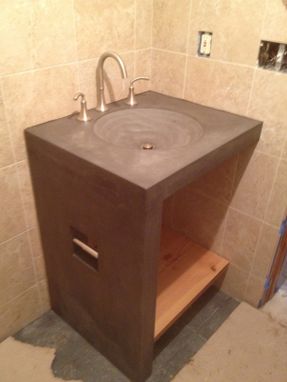 Here's the original request we received: Hi, I like the general look of the "modern home child's bath" and would like to explore our project with you. We are just beginning to repair our flood damaged lower level and contractors are starting at the first of the year. I guess lead time is pretty important to us. We live in Eldorado Springs. Look forward to hearing from you. Thanks, Joan and Bob Knecht

Here are some details on the project from the maker: Concrete sink with integral concrete leg and toilet paper holder. Dimensions 26" x 20". 3" thick. 34" tall.

Concrete shower bench represents $300 of bid. 3" thick, overall dimensions will be determined by structure built by others.

Thanks,
Pete
All of our products are handmade
by expert makers.
joan knecht's review

• Apr 8th 2014

We are very pleased with our custom concrete sink and shower bench. Pete brought a variety of sink molds for us to choose from, and having them at our house instead of just in his workshop or in a photo helped make the decision easy. He has made many beautiful bath sinks, so he steered us to the right faucets and drain placement too!
Many thanks! Joan and Bob Knecht, Eldorado Springs, Co.