Beer Windows: Mug Version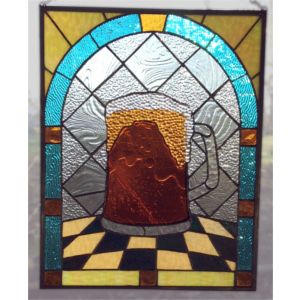 As of this time I have three different styles: Mug, Pint, IPA glass. Foam on beer created by using solid glass beads of varying size embedded in clear resin. Resin is also used to mimic liquid running down glass. As far as the type of beer, I can get as close as possible to represent any type of beer you wish. Just send me a sample of your favorite beer (just kidding). But I will make my best effort to match it. to give the beer glass dimension behind the beer foam I add another layer behind (this also helps beer type). I've also introduced etching on the beer glass. I felt something was needed to break-up the space the glass provided. We can discuss what you would like to see when you order.
All of our products are handmade
by expert makers.