Personalized Birth And Wedding Plates With Pennsylvania Dutch Or Celtic Designs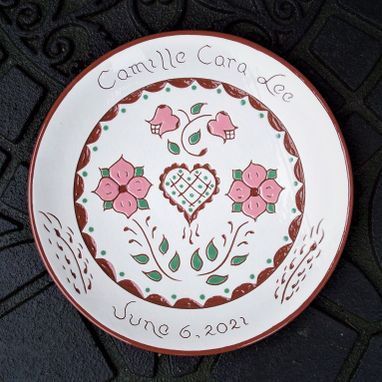 Sgraffito Redware plates personalized to celebrate births, weddings, anniversaries or other life events.
All of our products are handmade
by expert makers.
Susan M.'s review

• Jun 7th 2022

The birth plate was beautifully designed and Jody was wonderful to work with. She began the project immediately and was very timely with shipping and delivery. She responded to messages quickly and answered all questions clearly. We are very pleased with the finished product and will be ordering more for future baby gifts.

Kathy D.'s review

• Jun 6th 2021

Jody is a craftsman par excellence! The plates are beautiful, reasonably priced, and they arrived quickly. My mother began buying the Pennsylvania Dutch birth and wedding plates decades ago and Jody continues that wonderful tradition for the next generation.

Karan T.'s review

• Nov 14th 2019

The plates are beautiful, exactly what I wanted. I will be ordering again.

Lynda S.'s review

• Nov 5th 2019

I am very happy how the birth plate came out!!!
Beautiful work
Had to wait a few weeks but did end up delivered early
Definitely will purchase a gift again

stefanie p.'s review

• Feb 15th 2019

The plate made by Judy is beautiful, my brother and his wife have an old 16th century cottage in the UK, and this is the perfect wedding gift!
It will look perfect by their fireplace :)
Judy was great and very professional, i would definitely recommend, thank you!