Cabinetry Rescue + Client Review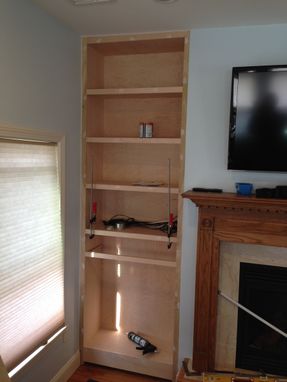 The most important part of this job is not this "in-progress" photo, but what happened after another cabinetmaker left this homeowner high and dry... a review from our client:
"I originally hired a different carpenter to build custom cabinets and shelves in my condo. After months of ignoring me, and making excuses about why he couldn't finish the work, I had to pull the plug. He agreed to deliver what he'd already built and terminate our contract. What I was left with was bits and pieces (in various stages) of my project.

After an extensive search, and full reference check this time, I hired Honore Cabinetry to try and pick up the pieces. They agreed to work within my predetermined budget and to salvage as much of the materials as possible. From the first day Mr. Honore was punctual, professional, and clearly took tremendous pride in his work. I gave him a key to my place, left him alone, and within a couple of working-days the entire project was complete, exactly as how we had envisioned it. I could have avoided the first headache by doing better research, this is why I've taken the time to write this review. Do yourself a favor, call Honore Cabinetry for an estimate on your next project, you will not be disappointed."

We don't have an approximate cost as this was not our project. The amounts below are not correct on purpose.
All of our products are handmade
by expert makers.