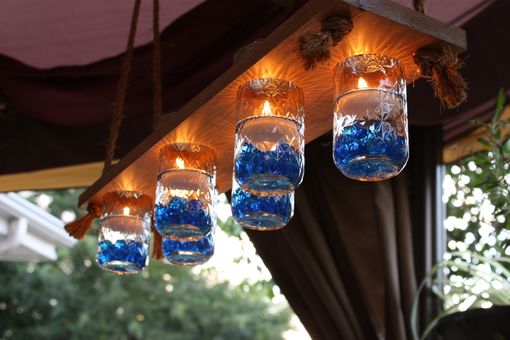 This Chandelier style hanger includes 6 - faceted 12 ounce Ball Quilted Crystal canning jars with lids, and the wood base holder which hangs by a rope with o-rings for easy hanging. This design allows you to burn candles to create the perfect ambiance for your home, patio, garden, or special occasion. As pictured, I have filled the jars with water, floating candles, and bright blue plastic gems to add some color.


Note: I have included the canning lids (which are removable) to protect your decorations inside. When not in use, they will protect your decorations. I sometimes put sand, shells, or rocks in the jars and without the lids on, they will fill up with water from the rain. So when I am done using them, the lids go back on to keep everything nice.

What is Included and Dimensions:

Jars - 5 1/2" Tall by 2 1/2" Wide
Jar Lids - I have wrapped the lids with a hemp rope for decoration
Wood Holder - 1" x 6" x 24"
Rope - From bottom of O-ring to top of board is 16"
O-Rings - 1 1/2" Steel Rings

The wood used to make this specific hanger is pine, with a golden oak stain, and has been varnished to repel water if hung outside and is UV resistant.
Made in El Cajon, CA - California
All of our products are handmade
by expert makers.