Copper Art Wall Piece With Super Wet Reflection Clear Coat.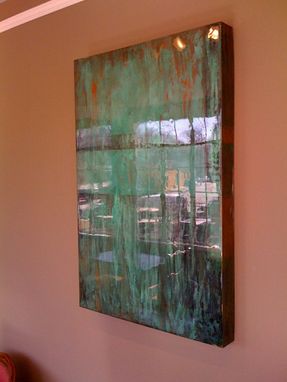 "Liberty"

It looks like the copper skin on the Statue of Liberty!

I folded and soldered the copper sheet metal into a box, then through a unique process, prepared the surface and added many layers of a home made patina that draws the beautiful colors out of the copper. Turquoises and greens and blues look amazing buried in a dripping clear coat that resembles rain.
I've created many of these in other shapes and sizes with varying proportions of clean copper and patina.
All of our products are handmade
by expert makers.