Custom Leather Mouse Pad With Bird Design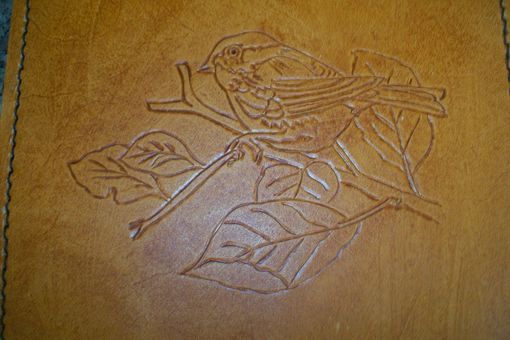 This Hand Tooled Leather mouse pad measures 8 inches by 8.5 inches and will last a lifetime. Customize your mouse pad with your company logo or choose one of our designs. This makes a wonderful gift or a beautiful business promotional item.

Let us help you! Call us...our artists will personally assist you to ensure your new Hand tooled leather mouse pad is exactly the hand tooled leather product of your dreams.

Every hand tooled leather product from Kerry's Custom Leather offers the following options:
1. Personalization & Customization: Kerry's Custom Leather offers hand tooled personalization of all of our handmade leather accessories with your name or personal motto. We have a variety of lettering styles and fonts for you to choose from.
2. Artwork/Design Customization: If you would like artwork on your covers, please contact Kerry's Custom Leather to discuss your custom design or check out our previous work to see some of the designs we have available (more designs are added frequently).
3. Leather color: Our leather supplier supplies us with superior quality domestic 4-5 ounce (cow) leather hides that accept color exceptionally well (so that we can stain or dye the hide by request). This allows us to offer a wide range of colors, or custom colors (by request). The leather colors listed in our options are our "standard" colors. However, if you would like a color not listed below, simply contact us, as we can dye a leather hide to match most color requests.

All of our products are handmade
by expert makers.
Edwin X.'s review

• Sep 21st 2016

Hi Kerry,

I received the mouse pads yesterday and I am very pleased with your work. The mouse pad is pretty thick (which gives it some good weight) and the quality is amazing.

I especially like how you packaged it with a little note on how I should care for my leather product.

Thanks for the wonderful work Kerry!

Best regards,
Edwin

Jack's review

• May 4th 2013

Kerry maintained frequent and needed contact with me as she prepared this very valuable, useful, and attractive mouse pad. The total experience in all its various aspects was of excellent quality. I am glad to have done business with her. She is one of those very top notch professionals.