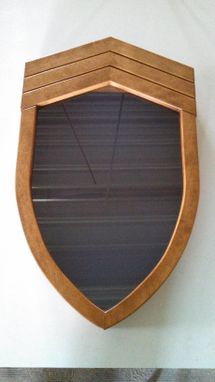 Here's the original request we received: I would like to get a custom shaped shadow box made for my dad who is retiring from the police department after 19 years. I attached a couple pictures, one is an image of the police department badge, another is a military shaped shadow box, and the other is a badge shaped shadow box. I really like the idea of having it shaped in his rank (sergeant) but i also like the idea of the badge shape. I would like to get an idea of what the maker is capable of. Also, I may need this project to be completed in a months time if possible. Budget flexible because of rushed timing.

Here are some details on the project from the maker: Good afternoon Sarah,

I am very pleased to offer you the following proposal with some loose ends to wrap up.
1. Birch display case with removable back with flat back mat board and a ply substrate back with turn button access and saw tooth picture hanger on it stained to your specifications via color specifiers.
Design similar to image provided by you the customer.
The Shadow box depth will be approx. 3 inches deep with glass front and Sargent strip above. Square glass pending. design at base.
see added image provided. Stain color still pending.

Please let me know if we missed anything and we can modify to fit.

I look forward to the opportunity to work with you and to serve your needs.

In your service,

Tim
All of our products are handmade
by expert makers.