Custom Spur Leathers For 1911 Cavalry Spurs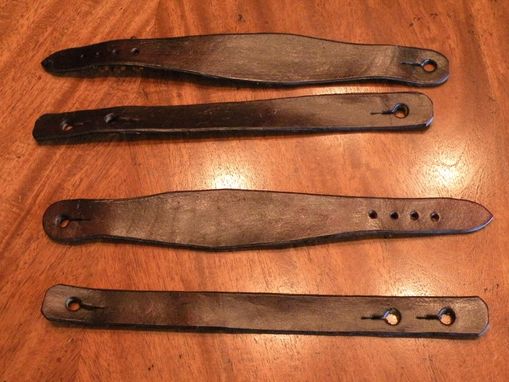 Leather spur straps for a pair of 1911 Cavalry spurs.
All of our products are handmade
by expert makers.
Evan C.'s review

• Jun 11th 2019

Product is perfect and exactly as advertised. The workmanship is impeccable and sized just as I requested. Shipping was fast, and I received my straps nearly an entire week ahead of the estimated delivery date. I would absolutely work with Ric again, and highly recommend his skill and expertise to others.

Brett R.'s review

• Apr 24th 2018

Ric did an excellent job customizing the product to my exact specifications needed. It was a pleasure to work through Ric, and his products are certainly top notch. The spur straps I ordered were crafted out of quality material and look like they're made to last. Despite a minor hiccup in quantity, Ric's customer service was second to none. I highly recommend his products.

Jonathon K.'s review

• Dec 13th 2017

I am extremely happy with Ric's work and the whole process overall. As a first time custommade.com user the experience was smooth and straightforward. Ric's communication was great, and he walked me through exactly what he needed to make the straps to the dimensions I needed. Thanks!

Adam Y.'s review

• Jan 31st 2015

Great communication, and great product. Very affordable, quick shipping, and the product was just as expected. Would definitely recommend.

Paul's review

• Sep 5th 2013

Ric worked with a picture of the straps I needed and helped me size them correctly. When he was done he sent me pics and a description of the work accomplished. It was a professional job done quickly and to my specs.