Clown With Saxaphone Statue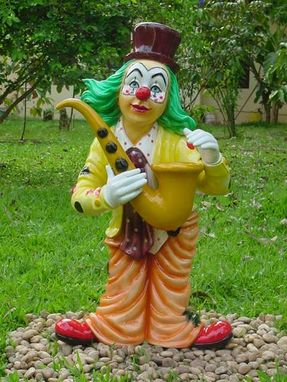 Featured here is another of our Decorative Bronze Clown statues. The Clown is finished in a wonderful mix of bright happy colors. He's holding a Saxophone and is free standing no base.

The statue is created using the Lost Wax Cast Bronze method by our excellent artisans. Our artisans have given great attention to the clown's statue detail of real clowns clothing and colors.

This charming statue would make a happy fun addition to a variety of places all you need is to be creative. It would touch the heart of any child and adult bringing back the memory of the circus ready to capture your heart!

Material: Decorative Bronze
Patina Finish: Mixed colors

Dimensions in inches:
Width: 20 in
Length: 15 in
Height: 36 in

Weight:
57.5 lbs

Please call or email us for a custom size.
Additional Fee: Custom colors
Submit your request for your combination.