Decorative Mickey Mouse Rug Black T-Shirt Upcycled Shag 37 X 27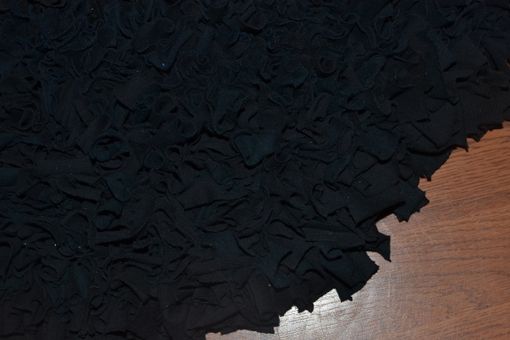 One of a kind decorative Shag Rug in the shape of Mickey Mouse Head
Approx 37" x 27"

This is a big rug made entirely with pieces of t-shirts (100% cotton) sewn onto a piece of towel fabric.
The pieces are sewn nice and close together (about 1/4") - so this rug is nice and full and fluffy
This is quite possibly the softest rug you will ever step on!
It is relatively heavy because there are A LOT of pieces sewn together here.

This rug would look great in any room and is a great gift for any Mickey Mouse fan

If rug becomes flat from walking on, simply shake out and it will fluff up like new. Can be machine washed and tumble dried. The t-shirt strips will tend to curl up when washed and dried. (which can change the look of this rug)...( see last photo of yellow rug to get an idea of how it looks after washing and drying.) Recommended to just do spot cleaning.

There is variations in the color due to many different types of t-shirts...adds to the originality of this unique rug.

If you are planning on placing it on a hard floor (wood, tile, ceramic, vinyl, etc)....it is recommended that you use a anti-slip backing/tape.

Here is a great one of a kind item that would look great in any room! I will be making more of these (different sizes and colors) so check back often. Thanks for looking!
All of our products are handmade
by expert makers.