Draw Bore Oak Farm Table With Ebony Inlay Caps.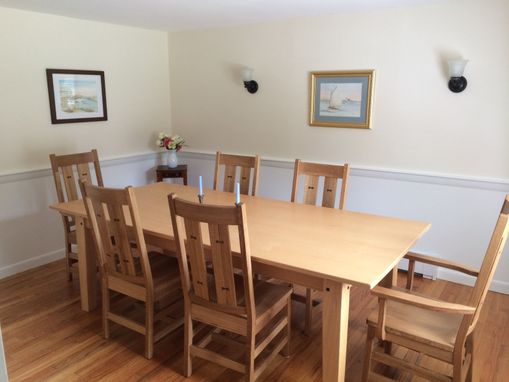 This table was constructed using a method called " Draw Bore". It's when a hardwood wooden dowel is used to draw in and secure the legs to the skirts in tenon and mortise joinery and is considered to be a traditionally constructed table. No glue is used on these joints - it's all friction fit.

This table was named "The Blond Goddess" Her straight grained Riff sawn beauty was carefully prepared by the sawyer whose love and expertise gave life to the wood used in this amazing table.
I used AA West African Ebony hand carved caps for all the draw bore holes hand drilled with drill brace to accent the simple beauty of this perfectly straight grained Oak table.

The top is Finished to a full 1 inch thickness which gave this table balance for the overall length of 7ft x 40 inches wide. The Legs are a full solid one piece 4"x4" with a slender double taper down to a finish of 3"x3" - creating a formal presentation to the meaty legs holding the Blond Goddess from below.
The wood used in the creation of this handcrafted beauty is a sample of Oak that I have available to me to create a one of a kind master piece. If this type of build interests you please contact me. I can make this table to any dimension and size you wish.
The price in the starting price box below reflects the price for a table using wood similar to this with prior approval by you for a table dimensioned as follows. 84"Lx40"Wx30"H with a taper 4"x4" solid leg and AA West African Ebony caps for the draw bore holes.

All of our products are handmade
by expert makers.