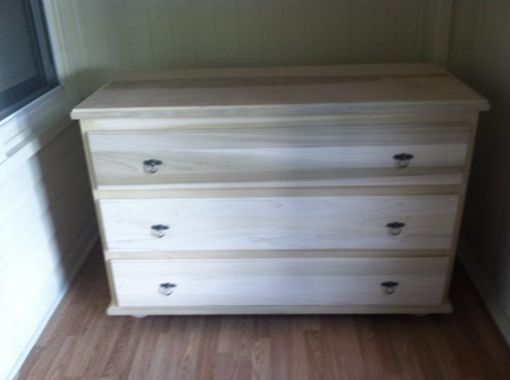 made with your choice of wood your choice of hardware and feet this one is made to a size that fit into a entryway
All of our products are handmade
by expert makers.
Richard's review

• Aug 27th 2013

We needed this custom maple cutting board as a client gift for an end-of-kitchen-remodel. Our client had a special pull-out drawer installed in her new cabinetry for her "bread board", as she called it. Her old one was of sentimental value to her, but we considered it a blight in the new cabinetry. So we wanted to surprise her with a new replacement. The specs were non-standard, so we had no choice but to order it custom-made.

Joe wasn't the lowest price bid we got, but he wasn't the highest, either. Price wasn't necessarily an issue for us. Turnaround time was important. Joe offered the fastest turnaround creation-to-delivery time. We sent Joe both a written description of what we needed, as well as a spec'd drawing, and a verbal phone conversation description to make sure we were all on the same page.

Joe and Lisa were very pleasant and professional to deal with. They came through EXACTLY on time, as promised.

The cutting board is beautiful, but with a couple of caveats. We spec'd 3/4" thickness. We got 5/8" thickness.

We asked for the cutting board lines to run in the LONG direction (23.25"), but they came running in the short direction (20"). This was a slight disappointment to us, since it is the long-direction that will be the pull-out lines seen when installed. We were sure we specified the LONG direction. We had run out of time to have another one made for us with the correct specs.

However, after we put several applications of wood oil on the board in prep for installation, the cutting board came to life with beautiful, interesting colors and depth of maple shadings. It became the quality product we wanted to give to our client.

We presented it to her (not mentioning the incorrect alignment of the wood-strips in the short-direction). She is thrilled with it, and we're making it work in the special cabinet-drawer, with the slightly altered 5/8ths thickness.

So ultimately, we got a very reasonably-priced custom cutting board produced for us in a very short turnaround time. Joe and Lisa were nice folks to deal with, which increased our confidence to send them the full-price of the item, rather than half first, balance later. Our confidence was not misplaced.

If we use Joe again for custom wood creations, we'll make SURE he understands exactly what our specs are required to be. Perhaps the communication shortfall was on our end in the prep for the project. We got a lovely product, and Joe was dedicated to getting it to us in the time-frame we requested. We really appreciate that.