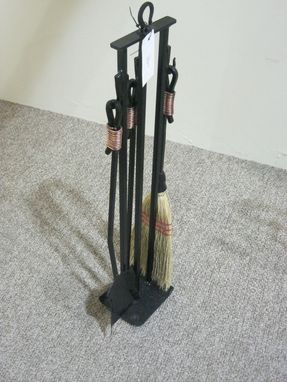 hand forged fireplace tools with copper wire accents
All of our products are handmade
by expert makers.
Brett G.'s review

• Feb 1st 2022

Mark did a great job and was able take what I described to him and fabricate a beautiful fireplace set. Project was completed quickly but still with high quality.

I would recommend him to anyone!

Patrick K.'s review

• Feb 21st 2021

Re. Woodstove toolset built by Mark Carter: First some background that led to the project. We have a very nice woodstove w/ nickel plated spring handle, door trim and side vents. For last 5 years have been searching for a commercial toolset w/matching nickel spring handles. None to be found. Have looked at hundreds of sets. This year while googling sets again Custom Made showed up on the search (had not shown up on previous searches) w/an image of a set made by Mark Carter. Not what I had in mind but worth a contact. Mark responded that same day saying he could do whatever I needed. In three days plans were made and deal was sealed. Toolset was delivered 2 weeks later. Mark built the set with the tools I wanted in a slightly longer length than commercially available with the handles I had been looking for. The set he made is exactly what I had been looking for. Workmanship is outstanding and it looks custom made. It has been in use for over a month before this review so I can also report that the tools work better than those commercially available. Small things like the bend in the shovel handle and the angle and length of the hook on the poker are much more ergonomic than commercial sets. Sitting next to the woodstove, it looks like it belongs. All this at a price that I consider more than reasonable. Working w/Mark was so easy from begining to end I wish there were more stars to give. He has our highest reccomendation. Thanks Mark.