Folding Screen With Original Chinese Paintings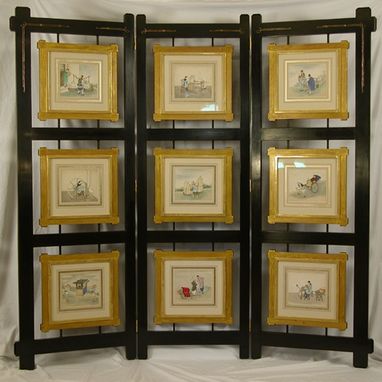 This folding Screen includes elements of Arts and Craft style as well as Oriental appeal. The Screen was designed to showcase this unusual and original collection of mid 19th century Chinese Pith paintings done with Guoache, an opaque watercolor. The collection of 9 genre pieces illustrates daily life in China during this period. Each of the painting is in excellent condition. They are each archivally mounted. The French mats are museum rag mats with water color ink lines and Moon Gold leaf panels done at the studio by Peter Miller.
The individual frames that hold each painting are made with gilded white oak and water gilded liners that are rubbed to show a glimmer of leaf on an ivory color gilder's clay. Each oak frame is made with cross lap joinery in the Arts and Craft Style. The 9 painting frames are held with mortised posts top and bottom connected to the folding screen frame. This design element was used to help separate a space but also to allow light and interaction between spaces. The folding screen frame is also constructed with cross lap joinery and is finished in black over red paint that has been clear coated and waxed. There is also a modest and loosely interpreted bamboo-inspired design carved at the top corners of the folding screen frame which is gilded as well. The brass hinges are double folding hinges and imported from England.
The back of the folding screen is finished in paint and deep chocolate brown ultra suede.
Dimensions: 71" high x 73" wide