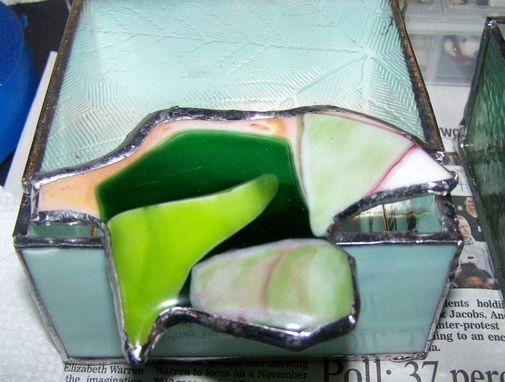 This box was made for a client out in Western USA. They asked me to create an unusual style box with a creative twist. The client told me their favorite color is green, and they gave me full artistic license beyond that!
I decided to take some smaller pieces of green glass I had from another project I was working on. I choose to reuse as much glass as possible to save everyone money, and also to stay as "green" as possible.
The smaller green glass pieces were then layered in a specific way, and placed in my kiln to fuse. I heat the glass to about 1800 degrees, then let it cool slowly in the kiln. After the fused glass had cooled, I ground the edges of it and soldered the now solid piece into the lid of the box. The rest of the lid of the box was made from a simple clear glass with an abstract leaf pattern. The fused glass piece doubles as the latch to open the box. This provides the benefit of having a large latch surface area so that it can withstand more opening and closing.
After I created the lid of the box I went on to create the box itself. What I used for the sides was a neutral green glass with just some slight texture to it. For the bottom of the box I used an antiqued mirror glass.
Dimensions: 4" x 4" x 2" traditionally, but can be made to any size!
All of our products are handmade
by expert makers.