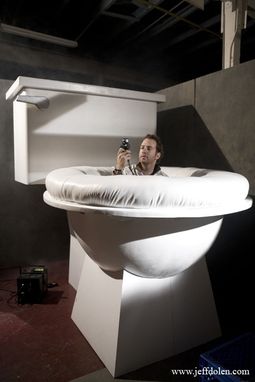 We made this 8' tall Giant Toilet for a short film, got to keep it, and then used it as a bar in our artist collective. Yup, we had lots of FUN with this massive prop.

base is 3/4' plywood
bowl is two pieces both molded plastic
rim is kiln dried, 2"x12" lumber that was biscuit joined
seat is faux leather, foam & MDF plywood
tank/lid are 1/2" plywood wrapped in PVC plastic sheeting

We were planning on motorizing it and taking it to parades and festivals but it disappeared. The Giant Toilets whereabouts are still a great mystery.

I desire greatly to make another one out of higher tech components and motorize it. I would get it street legal as a Neighborhood Electric Vehicle and use it as a grocery getter and for beach trips.

All of our products are handmade
by expert makers.