Gold Scarab Jewelry Cabinet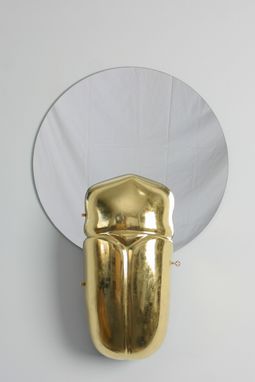 Fiberglass, 22K gilded Gold Leaf, 24K gold-plated brass, Rosewood, Figured Maple, mirror.

This is a wall hung Jewelry cabinet that is modeled after a scarab beetle. The shell or carapace is made of fiberglass which was cast in a plaster mold. The surface was treated using traditional gilding methods-- it was painted with French Clay and then covered in gold leaf. The soft bed of French clay allows the gold leaf to be hand burnished with an agate burnisher to achieve a mirror-like finish. Inside the cabinet there are hooks for necklaces, earing racks, and two small drawers. The round shape above the beetle is a mirror.
All of our products are handmade
by expert makers.