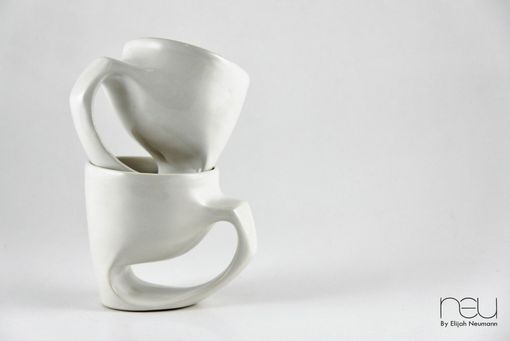 This stoneware coffee cup was designed to fit into your hand in such a way that you can wrap every finger around your drink and savor it's warmth until every last drop is gone. It is cast in a single piece in a two-part mold, then hand sanded, glazed, and fired to cone-6. It is approximately 3.75" tall and holds enough coffee to enjoy without getting jittery.

I have just under two dozen of these cups glazed in a beautiful clear glaze which lets you see the creamy supper-white clay beneath. These can be ordered and will be in your hands very quickly. I also have the molds to make these cups to order, by hand, for additional cost. If you would like a custom color, that can be arranged.

I have also been asked before if the cups could be made larger for more avid coffee drinkers, and the answer is yes! They can. I am in the process of having a larger version manufactured by a ceramics company, and am currently waiting on financial backing to pay for the first order of 2,400 or more. In the mean time, if you would like be to remake my personal molds for smaller batches which would accommodate your larger hands or larger coffee capacity, The cost would be great, but not insurmountable. Contact me with questions, I'd love to hear from you!
All of our products are handmade
by expert makers.