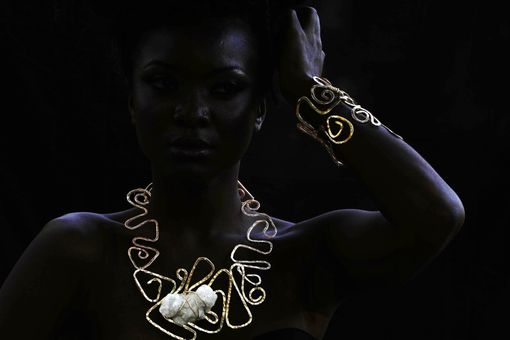 The two pieces are part of the Hieroglyphics of a Starchild collection.

The Starchild realizes her unlimited potential and becomes a Goddess. Realizing the responsibility she has to be authentic, connected to her calling, and tap into that warrior, lover, emotional, intuitive celestial being. She realizes that the things that she interpreted as awkward were her gifts. These were the things that made her a strong being. Her laughter, walk, playfulness, dreams, visions.

She moved on from the label of the Starchild to the Goddess she was born to be.

These are the final pieces of the collection. I found that as I was coming to the end of the rode in regards to this collection and some things I had made my truths, I was becoming bolder with my own image and desire to shine extremely bright with the desire to spark excitement and creativity in others.

At that moment, I decided to make simple pieces and allow them to fit together to bring this story to an end.

The bracelet is the final story of the Starchild realizing her unlimited potential and becoming a Goddess.

It is an encryption around the neck. A message of boldness, energy, unapologetic explosion of greatness. The apophylite is the reminder that our Higher Self is always surrounding us with light, available to us.


All of our products are handmade
by expert makers.