Kirtsland Warbler Songbird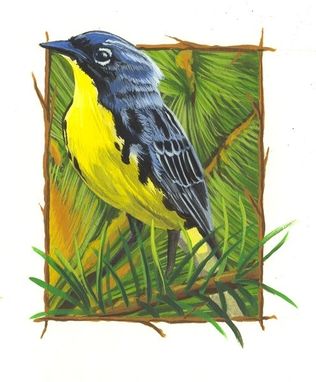 Imagine and enjoy the sound of the Kirtlands Warbler Songbird! The males' song is loud, yet low
pitched, ending with an upward inflection. As the female builds a nest of leaves and grass, lined
with mosses or deer hair, the male begins to bring her food. Although this is only a painting, you
can imagine its sound upon looking at the image. This is created by Dwight Kirkland, an artist.


An acrylic on unframed illustration board, this piece of art measures 3 inches by 4 inches.
Artist retains all copyrights.

Acrylic is a type of paint made with synthetic resin as the medium (liquid) to bind the
pigment (color), rather than natural oils such as linseed used in oil paints.

Black Leaf Studio is the clear choice for your next project. We specialize in hand painted
murals on walls, backdrops, canvas, sets, theatre, scrims, museum, zoo, and aquarium
environments. Please give us a call or visit us on the web to discuss how we can create
your next environment.
All of our products are handmade
by expert makers.