Large Laser Cut Mylar Text Stencil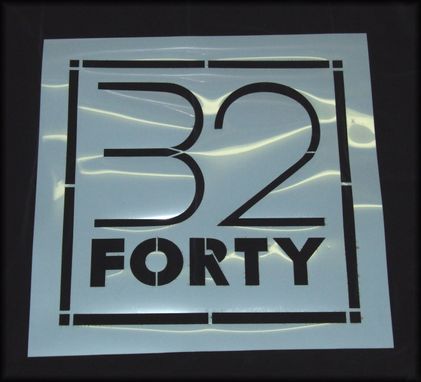 Large custom mylar text stencil laser with the text 32 and "FORTY" cut out. The stencil size is 24x24 inches. The entire stencil includes a two inch border. The material used was 7.5mil mylar which is reusable. Customer intends to use the stencil to paint on a hallway wall in a public building. The style of the stencil pattern is block text, however, any font could be used. Tacky back stencil is also available in 7mil mylar.
All of our products are handmade
by expert makers.
Benn Jordan's review

• Sep 29th 2013

In realistic expectations with any service or company, you have to choose 2 of the following:
1. Speed
2. Quality
3. Value

I got a great stencil, with well thought out and nicely designed "stencil lines" to hold it together for a pretty great price. It did take a few weeks, but I wasn't in too much of a hurry so I'm not complaining.

Overall, great job!