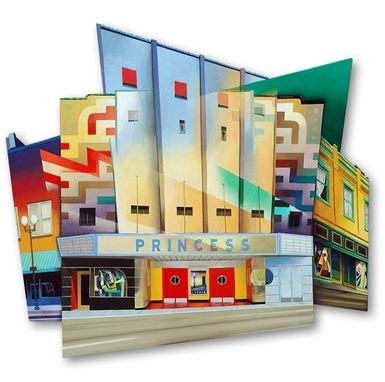 This painting was commissioned as part of a large corporate art installation. It honors the Princess Theater in Harriman, Tennessee. It is an oil painting executed on a gessoed panel of birch plywood. The client was shown detailed full-color digital sketches of the composition prior to painting.

The drawing of this composition derives from the work of the Cubists. The primary three practitioners of this movement had studios in a building in Paris called the "bateau lavoir." You can see an image of this building in the poster box between the two red doors. Art Deco, the style of the Princess Theater's architecture, was a popularization of the design discoveries of the Cubists, Contructivists and other early 20th Century artists.
Dimensions: 47" X 53"
All of our products are handmade
by expert makers.
Commissioner's review

• Sep 28th 2012

I was on the art advisory team for Jackson National on their new facility in Nashville, TN. Our client requested art that related to that geographical area and we selected John Boak to create a site-specific piece. Working with John is a rewarding experience from start to finish: While always acting with the utmost professionalism, he listened carefully, understood what we wanted and created the perfect work of art for the project.He ingeniously combined the image of a Tennessee landmark with clever allusions to art history and produced a painting that is both visually appealing and intriguing. I highly recommend this artist for custom art.

-Maeve