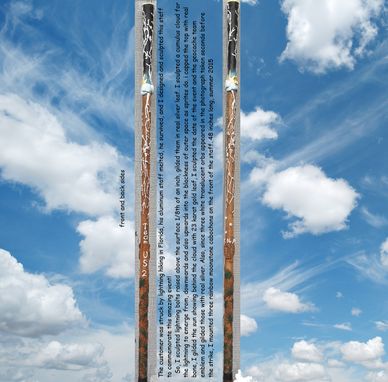 The customer was struck by lightning hiking in Florida, his aluminum staff melted, he survived, and I designed and sculpted this staff to commemorate this amazing event!
So, I sculpted lightning bolts raised above the surface 1/8th of an inch, gilded them in real silver leaf. I sculpted a cumulus cloud for the lightning to emerge from, downwards and also upwards into the blackness of outer space as sprites do. i capped the top with real bone, I gilded the sun showing behind the cloud with 23 karat gold leaf, I sculpted the date of the event and the geocache team emblem and gilded those with real silver. Also, since three white translucent orbs appeared in the photograph taken seconds before the strike, I mounted three rainbow moonstone cabochons on the front of the staff.
All of our products are handmade
by expert makers.