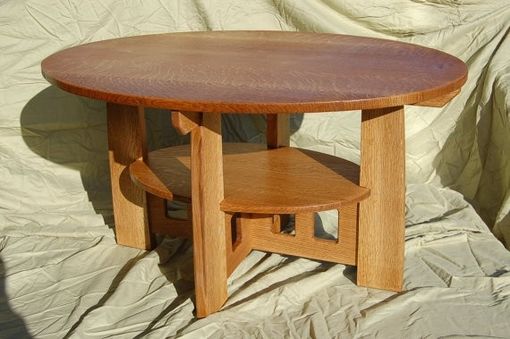 Constructed of solid quartersawn white oak and finished in the traditional Arts & Craft color, this coffee table size gem is a perfect addition to any home decor. Lustrous finish, deep color and traditional hand joinery make this an instant heirloom piece. This table is guaranteed to bring oohs and aahs from all of your friends and family.

This fine coffee table is constructed using floating tenons and tight-fitting bridle joints. During assembly, the table goes together more like a giant puzzle, than a piece of furniture. All the pieces interlock and the only mechanical fasteners are the 4 screws hold the top in place.

The finish is hand rubbed in with 400 grit wet/dry paper. This process creates a silky smooth, almost sensuous feel to the white oak, which is a very coarse wood in it's natural state.

We are showing only 1 available, but these tables can be made to order and would take approximately 3 weeks to complete.

The size is approximately 20" Tall X 36" Wide X 27" Deep. This item requires special crating and shipping, please contact us for a shipping quote including your address.
Dimensions: 20" Tall x 36" Wide x 27" Deep