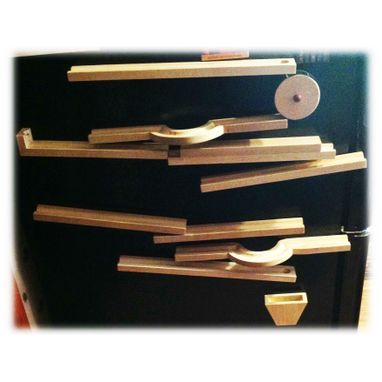 What a fun project. Made from cypress this is a puzzle for a clever child. The objective is to arrange the pieces so that a marble will roll from top to bottom without overshooting, bouncing off, or simply stopping. It is quite a bit more difficult than one might think, but I guess that's the point!

The one shown here has six straight runs, two curved runs, one spinner, one catch box, and one straight tunnel and is priced at $110, inclusive of shipping.
All of our products are handmade
by expert makers.
Tamara's review

• Aug 20th 2013

Jim built a custom magnetic marble run for us - to be used on a vertical magnetic surface like a refrigerator. It's awesome! He created exactly what I had envisioned using high quality hardwoods and super strong magnets recessed into the wooden "tracks". Jim provided great communication and was easy to work with every step of the way. Although it's technically "for the kids" I'm excited to break out the marble run and play with it myself. Fun for all ages!