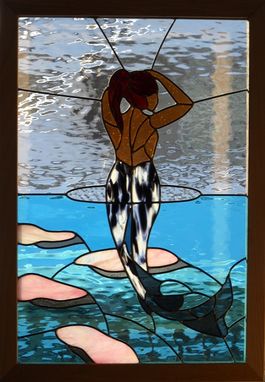 While living in Australia some years ago, I spent a few days at a caravan park in Mackay, Queensland. This town is on the South Pacific coast and adjacent to the Great Barrier Reef. While scuba diving around the reef with an underwater camera I was startled by something breaking the surface of the water. To my shock and dismay, it appeared to be a mermaid surfacing for a bit of a look around and then disappeared back into the coral. I've tried to capture that Mermaid in stained glass. Her colors are not bright like the coral, but she certainly stands out in a crowd. 18 x 25 inches. For an additional $75, rectangle items can be framed in oak with a walnut finish ready to hang with (2) 12 inch chains.
Made in White Bear Lake, MN
All of our products are handmade
by expert makers.