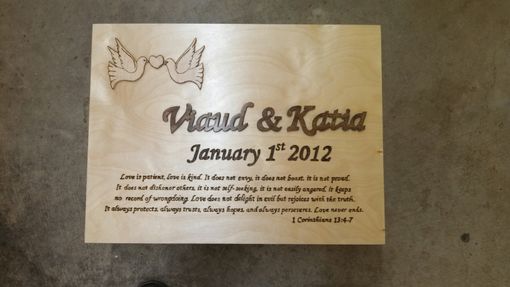 Here's the original request we received: I would like names carved in wood with two doves framed

Here are some details on the project from the maker: Good evening Katia,

I am happy to offer you the following proposal.

Raised letter names and Doves with monographed wood burned dates, and bible verse clear coated finish. Lettering size approx. 100-125 font with Hand Bolding to exemplify the lettering that is raised. Exact size will be determined on lay out.
Font style is Mono Type Corsiva
Panel size 24 inches wide X 18 inches tall.
Panel will be of a Baltic Birch Micro lam.
1/4 inch thick to maintain weight.
Location of doves and lettering to be verified to assure satisfaction. Final Draft from Customer needed to just verify location of everything.
See attached notes per customer.

customer notes:
I want the doves to appear the same as the names. Please remember only the doves and the names will be carved. I would like the doves in the second draft to be shaped like the doves in the first draft. As for the frame, I will get it after your work us done.
Just a reminder the doves will be carved and placed on the left with the names beginning at the bottom of the second dove, and the date monograph.
I think a 1/4 thick might be good because I want to have a bold look but not too bold. If thickening the letters will make it look bolder, then that's fine.
Thanks Katia,
and I look forward to working with you on this project and getting the final draft from you.

In your service,

Tim
All of our products are handmade
by expert makers.