Nottage Glass Top Pool Table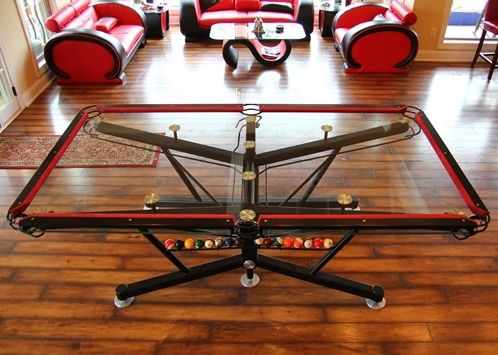 " A (playing) surface that really does allow the balls to come to a stop, even lets you use English, Draw and Follow…" POOL & BILLIARD MAGAZINE, USA - SEPTEMBER 2007

The transparent playing area is composed
of the patented Vitrik playing surface on
top of a 15mm toughened glass top.
Available in 8' x 4' or 7' x 3.5' sizes.

Our glass tops are premium quality and
toughened so are up to 6 times stronger
than standard glass. Glass is very rigid and
flat and is not prone to sagging or warping,
providing a great alternative to slate.
The Vitrik playing surface replicates the
rolling resistance of an average speed cloth.
It is hard wearing and allows spin (english)
to be applied and retains consistent roll
characteristics over its lifetime.

Visible ball return systems make a feature
of pocketed balls, rather than being
hidden away.

Nottage Design has created the ultimate
pool tables. Period. It fills the need for a
truly unique and cutting edge designer
pool table for the latest in modern interiors.

Why settle for an outdated design?

Our pool tables ship with high quality
2.25" balls; triangle; 2 matching silver
cues and a bridge stick.

Available in your choice of colours,
bumper fabric and glass tint.

Nottage Design pool tables blend ultra modern styling and new patented technology
G-1

Available from Triangle Billiards.


All of our products are handmade
by expert makers.