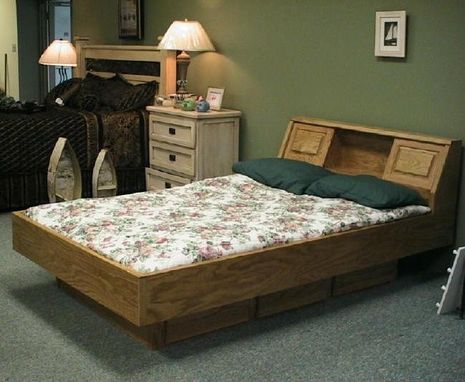 I thought I would include a waterbed project since waterbeds are where we got our start over 35 years ago. This one is built using oak wood and has a bookcase headboard. The raised panel doors on the headboard slide to gain access to each compartment.

The pedestal under this one is a 9 1/4" high 6 drawer pedestal. This is the same style that I build for my regular platform beds.

We do not build a lot of these anymore but every once in a while we will have a special request. We actually stock most of the no wood parts.

Most Waterbeds are built using Pine. This oak wood used gives it a very nice look to it. The pricing below can be for oak or maple.

Basic Oak Waterbed $499*
Siding bookcase H/b $350
6 drawer pedestal $300
Total $1149

*Basic Oak Waterbed includes: Oak frame, Screws and brackets, decking, Full motion mattress, liner, heater, chemical, and fill kit.
Made in North Little Rock, AR
All of our products are handmade
by expert makers.