Odd Shapes In Stained Glass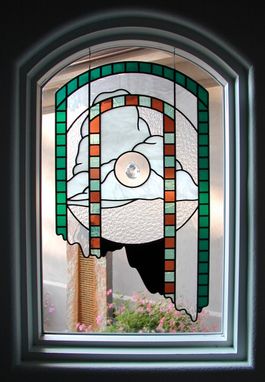 This custom commission is a good example of an odd shaped stained glass artwork. While most custom stained glass projects (and even ready-made stained glass projects) are rectangular, circular or octagonal, any shape is possible.

Oddly shaped stained glass that will be completely fill the odd shaped window it was designed for are somewhat difficult because careful measuring and patterning are necessary before the creation process begins, and because precision craftsmanship is necessary during the creation of the artwork. These skills are necessary to create an artwork that [1] fits easily and correctly into the intended space, and [2] will stand the test of time, that is, not develop problems later on.

An oddly shaped stained glass artwork that does not fully fill a window opening is even more difficult because the internal structure must be well thought out beforehand and well executed during the creation process or the structure of the artwork will almost certainly fail sooner or later. Most people who have any experience with stained glass have seen this but not known why it happened. The hanging panel that eventually separates at the top where the hanging loops are attached... or the stained glass panel that eventually lets light leak through its interior parts... even the suncatcher that eventually falls down or falls apart... these are all examples of stained glass that was poorly thought out and/or poorly executed.

The artwork you see here is an example of good planning and precision execution. It not only mimics exactly the shape of the window in which it hangs, but it will never separate or fall apart. And this is true even though it breaks a primary no-no (at least, one of mine) - to (almost) never use lead came around the outside of a project. Lead is a soft metal. Lead around an installed artwork will often fail over time because gravity is relentless and will eventually change the shape of this outer edging. Lead around a hanging panel or suncatcher often becomes the came to which the hanging loops are attached. This will surely cause the lead to stretch enough to [1] break (at worst) or [2] let light show through (at best). Even interior leadlines that have been used to attach hanging hooks will very often cause these internal lines to stretch enough to let light through where it was never intended.

But the artwork you see here was well planned, even though it was advantageous to have lead as the outer edging (especially along the bottom). In this artwork, the hanging hooks are attached to interior lines that are made of zinc, a much harder metal than lead. The wires from which this artwork is hung travel from the hanging loops up through small "eyes" soldered to other leadlines until they reach the top of the artwork. In this way, the wires can remain hidden but still attach to interior lines, allowing these strong interior leadlines to hold the weight rather than the upper outside edge.

The point of all of this is that not all stained glass is created equal, and a savvy buyer of this art form will want to do a bit of research so that they can ask an artisan from whom they're considering a purchase how he or she would make the artwork.

I stay busy as a stained glass artist, whether I'm making a custom commission or making an artwork that I will offer for sale. I do not need to "close the deal" each and every time a person contacts me for a bid on a project. Sometimes, I'm too busy (more of that, dear Lord!)... sometimes the necessary elements are not specialties that I do well enough (I don't think it's fair to be learning some new technique while getting paid)... sometimes my price is higher than what another artisan would charge and the client is fine with the work of that other artisan... and sometimes the job is too small to make the shipping costs reasonable. Whatever the reason for not getting a commission, my desire to raise the standards of design and craftsmanship and professionalism in the medium of stained glass compels me to offer consultation (generally free of charge) on a potential commission. The good karma that results is worth the time and effort involved.

This is also why I teach my methodology for designing and crafting precision stained glass on DVDs.

So be savvy about stained glass craftsmanship. With oils on canvas and many other artistic media, craftsmanship is not as important; it only matters whether you like the outcome (I've never seen oil paint fall off a canvas, but I suppose anything is possible). But with an architectural art form such as stained glass, the skill of the maker is very important to the integrity and the long life of the artwork.

'Nuff said.
All of our products are handmade
by expert makers.
No reviews yet
Each week, expert artisans from across the country become makers on CustomMade.
Every maker has a story. Be a part of Transparent Dreams Stained Glass's story by placing an order, leaving a review, and seeing your review appear here.