Pedestal Flag Case, Internment Flag Case, Pedestal And A Flag Ca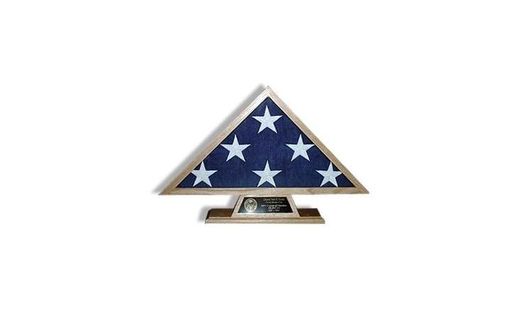 Each Pedestal and Flag Case is constructed with miter joints, and can be accessed from the back panel for easy setting up of your display.

Able to fit 3ft x 5ft flags and 5ft x 8ft flags, this useful case – also known as a casket flag display case – is hand-crafted and made with love by a U.S. military veteran.

Created to house and display internment flags, this Pedestal and Flag Case allows you to honor your hero year-round. U.S. interment flags are made with embroidered stars, sewn stripes, brass grommets, and white headers. This special flag is traditionally displayed on top of a casket, at a funeral, in memory of a respected veteran's military service to the United States of America.

All veterans who have served in the military service except for those who were under dishonorable discharged are privileged to having a U.S. interment flag displayed on their casket.

The folded US Interment Flag is often displayed in the home or at the office in a wooden flag memorial case that is made specifically for preservation and beautiful display.
All of our products are handmade
by expert makers.