Picture Frame-Adirondack Style Panoramic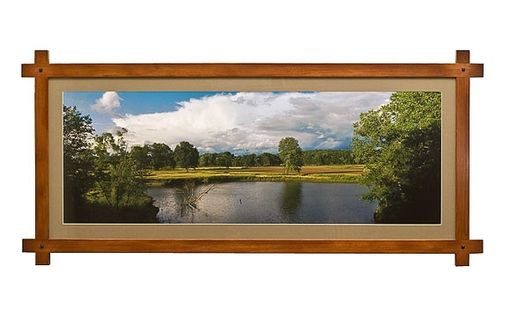 The rustic Adirondack style picture frame is well suited to landscapes and similar nature scenes. It can be readily made in a wide range of height/width ratios and is particularly well suited to wide or panoramic images such as the sample shown.

The frame shown has an image opening of 43 by 17 inches. Frame material is 1" x 1.5" vertical grain redwood, lapped corner joints, joined with pyramidal top, 5/16" square pegs. Finish is an initial coat of Danish oil plus a rubbed coat of polyurethane.

Because of the nature of the joint design, each frame is a custom project, cut to a specific size.

Frame may be supplied with or without glazing . . . which is easily obtained through your local frame shop to reduce shipping cost. Non-reflecting material is suggested. We normally would supply non-reflecting Acrylic to reduce chance of damage in shipment.

Price for a frame only in the size shown is $135 plus shipping. Other sizes, glazing and mats quoted on request.
All of our products are handmade
by expert makers.