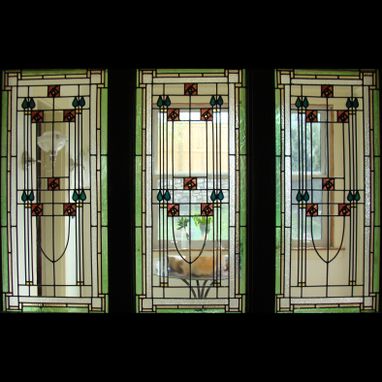 These panels were created for a new sun porch. The home owner wanted to match as closely as possible preexisting windows throughout the classic prairies style home. I simply had to resize them from the original small 1.5 ft by 3 ft. horizontal panels to these tall 5 ft. by 2 ft. verticals.
All of our products are handmade
by expert makers.
Louis M.'s review

• Apr 11th 2020

I have thought I left this review more than once, but am back because I want to express how happy I am with Cara's work. I'll admit to being a very difficult customer for this project. I made color and design suggestions that Cara dutifully carried out all along the way only to have me not like my own ideas. The final agreed design is not only better than when we accepted the project, but makes me smile every time I see it. The color choices and small craftsmanship details are really wonderful and I love the result. I'd highly recommend Cara for your project.