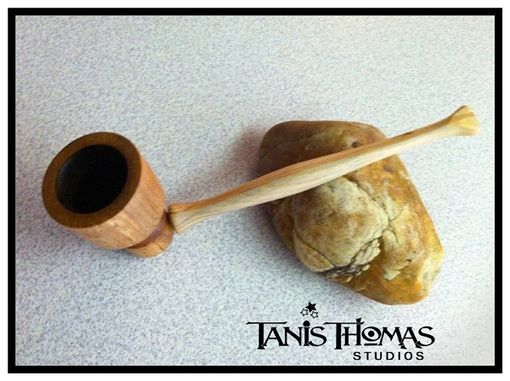 Pipe_14-001

Handmade Reclaimed Hardwood Pipe by Tanis Thomas (Signed)

Smoking Pipe; Two-Piece Handmade Reclaimed Hardwood Tobacco Straight Pipe Signed by Tanis Thomas

My pipes are one-of-a-kind, two-piece, straight pipes using reclaimed hardwoods obtain from around the world. Each pipe is lathe turned and/or hand-carved by the artist. All pipes retain their natural wood finishes with a light coat of woodworkers wax on exteriors surfaces. Bowls are pre-fired by the artist. Buyer must be 18 years or older with intent to smoke tobacco products.

All orders have a 1-2 working day processing time after payment has been made in full and orders usually ship within 3-5 business days thereafter. (Christmas Holidays Excluded)
The average delivery time for the most countries is 8-14 Business Days. In some cases the delivery can take up to 21 days due to Customs regulations.

Pipe_14-001 details:

Overall Length -208 mm
Stem Length – 168 mm
Stem Material – Laminated Southern Pine/Cedar
Bowl Material – European Maple

Bowl height - 71 mm
Bowl width – 45 mm
Bowl Camera Width – 31 mm
Bowl Camera Depth - 45 mm

SHIPPING INFORMATION

• Shipping Worldwide from Tanis Thomas Studios in Panama City, FL USA
• Standard Priority and Int'l Priority Flat Rate Shipping with Insurance and Tracking.
• Ships within 24-48 hours after receipt of payment.
• Item will be qualitatively packed


woodworking, pipe, handmade, unique, gift, collector, tobacco, reclaimed, hardwood, signed

All of our products are handmade
by expert makers.