Refitting Of Stickley Crt Television Armoire Into A Bar.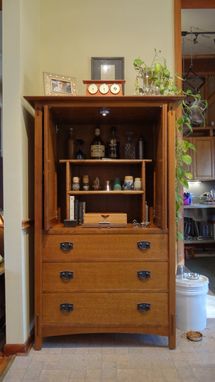 This piece is a L & JG Stickley television armoire that was functionally obsolete due to the emergence of widescreen TVs. I removed the VCR shelf and the sliding/rotating TV shelf and repaired the interior. I then constructed oak shelving using pinned dado joinery, with funky rounded front edges. The shelves were finished with an oil stain, and several coats of hand-rubbed wax on top. An LED cabinet light was the final touch.
The VCR shelf was repurposed as a stand for a widescreen plasma TV and the original TV shelf was completely refinished (stain and wax), for use as a lap-desk, for use with laptop computers and for drawing or writing on paper.
All of our products are handmade
by expert makers.