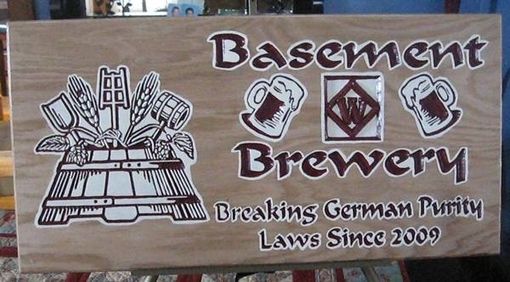 A young local couple, who are microbrewers, wanted a sign for their basement where they do their brewing and occasionally hold gatherings for other microbrewers. They placed the sign on a wall above the staircase leading to the basement. They both thought it was awesome.

Originally, they wanted a sign with images and lettering on a black matte background. However, as we discussed a negotiated several ideas, this is what we ended up with. Their only stipulation was that the sign had to include their "motto," (Breaking German...). I found the left-hand image on the internet (brewer's sign). They suggested the two mugs on either side of their logo (W in a diamond). They liked the simplicity of calling their activities a Basement Brewery. I chose the font. We finally settled on a maroon color for the lettering and shadowing on the brewer's image and light buttermilk for the highlighting.

I used a 15 x 30 inch piece of oak veneered plywood, carved everything with a CNC router, varnished the board (no stain), then hand-painted the images and lettering. It was nothing like they originally envisioned but they were extremely happy with the end product. Even I thought it was pretty awesome.
Made in Cross Junction, VA
All of our products are handmade
by expert makers.