Flying Octopus Gyotaku Giclee Print - Traditional Japanese Fish Art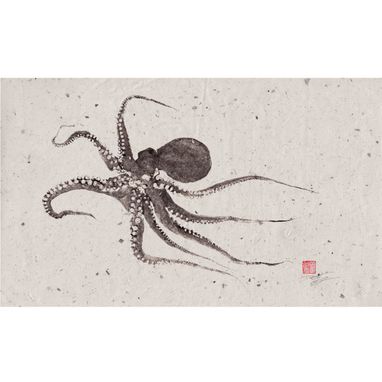 Limited Edition, high quality reproduction, gyotaku print of an Octopus, gracefully gliding through the waters. One of our most popular non-fish prints! And this one is part of a limited special edition series of higher quality giclee prints!

Gyotaku is the traditional Japanese alternative to Taxidermy that began several hundred years ago by a ingenious calligrapher. Meant as a way to record a proud catch for fishermen, it is also a stunning art form. All of my prints are done in the old, traditional "direct" method where the ink/pigments are applied directly onto the fish and then covered with paper to produce an exact, mirror image of the specimen. An incredible lack of control that can produce exquisite delicacy.

This particular image (flying octopus) has been reproduced on a 12x19 Sunset Velvet Rag (315 GSM, 20 MIL) fine art paper, Giclee print, with a certificate of authenticity attached to the back of the print with the print number stated on the certificate.
This is a limited edition run of a total of 300 prints!

Photos of the framed sample is simply to show you what it would look like behind glass!
Frame is not included.
Prints will ship first class via tubes for protection!

Please don't hesitate in contacting me regarding this print or other specimens that you may be looking for!
Made in Mission Viejo, CA
All of our products are handmade
by expert makers.