Thor's Hammer Croquet Mallet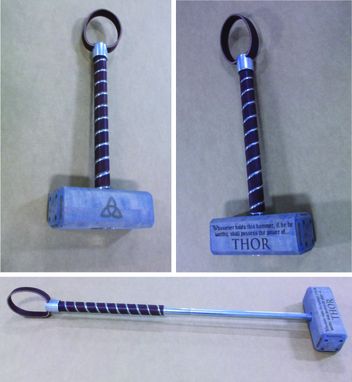 A special project that was requested, this is a replica of Thor's Hammer designed to extend so that it can also be used to play croquet. This project is meant primarily to show the range of materials that we are able to work with.

This is NOT a regulation croquet mallet.

The handle is wrapped steel spiraled around the a steel pipe with leather wrapped in between lines, and includes a steel cap and leather strap. The handle can unscrew from the hammer head and another section can be added to the handle to extend it to a length to play croquet. All steel parts are powder coated with a mirror silver powder paint.

The hammer head is hard maple with a light grey wood stain. The wood is laser engraved on both sides. Both ends of the wood are removable caps, in the even that the end becomes damaged it can be unscrewed and a new cap can be used to replace it.

This works great as a hammer for costumes, or as an actual croquet mallet, although it is significantly heavier than a regulation mallet.
All of our products are handmade
by expert makers.