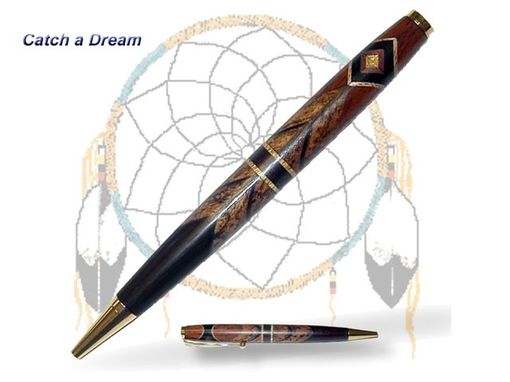 Catch a Dream. The challenge and inspiration as can be seen in the image is the dream catcher. This one of a kind pen was created from many different domestic and exotic hardwoods from literally all over the globe. Desert Ironwood, Rosewood, Yellow heart, Purpleheart, Satinwood, Holly, Snakewood, Zebrawood, and Wenge, each chosen for color, grain and contrast. The result is a striking, complex yet elegant functional piece of art.
All of our products are handmade
by expert makers.
Hoang N.'s review

• Feb 18th 2016

It has been a pleasure and excitement for me to have an artist and superb craftman like Mr. Pearson working on this project. Through out the process he is always helpful giving me a lot of ideas for choice selection, the type of woods involved and above all his professionalism and artful guidance. The final product is pure pleasure to look at all the intricate details. Thanks a lot Mr. Pearson. I am sure to contact you about other projects involved wood inlays in a very near future. Best regards, Hoang.