Whimsical Doghouse Dog Cremation Urn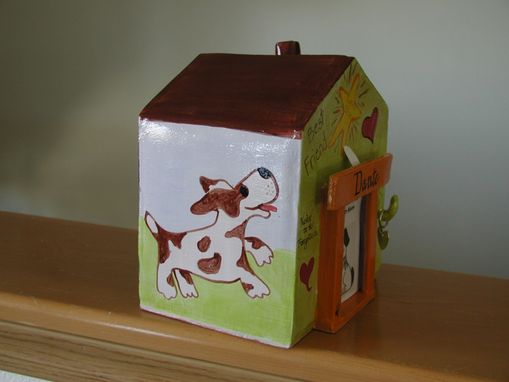 Cremation urn for a dog, in the shape of a dog house.
This whimsical dog house pet urn is glaze painted with underglazes and a shiny clear glaze. Each side front and back have different scenes and words. The "front door" of the dog house is a photo frame for your pets photo and there is also a tab next to the door for your pets tags.
I can work with you on all drawings on each of the four faces of the urn to depict your special companions unique personality.
All of our products are handmade
by expert makers.
Jamie T.'s review

• Nov 17th 2014

Working with Rosemarie was a delight. She was very patient and accommodating. Delivery was faster than estimated and I am very happy with the final project. I would highly recommend this urn for anyone who loved their furry friend and wants a happy final resting place for their pal. I wanted something that would make me smile to look at on the mantel, not something that screamed death. This is exactly what I was looking for. Craftsmanship is nice and attention to detail is on point. I would definitely work with Rosemarie in the future and recommend her work.