Has the Royal Wedding ushered in a new trend in engagement rings?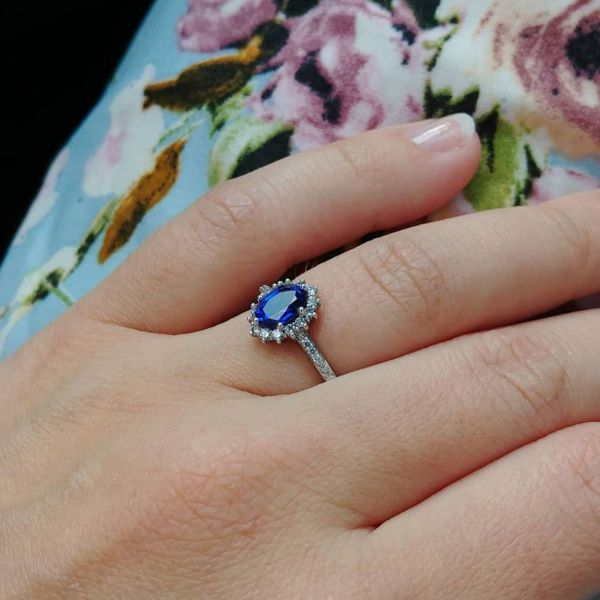 In 2010 when Prince William proposed to Kate Middleton with his mother's gorgeous sapphire sunburst ring, the popularity of sapphire spiked and remains by far the most popular non-diamond center stone among our customers.
Now, with Prince Harry and Meghan Markle's wedding just days away, we found ourselves wondering what impact Meghan's three-stone ring had on the public. We dug through thousands of queries for custom rings since the engagement announcement and found some interesting results.
Looking at the data
Based on the data from William and Kate's engagement, we figured that we would see another huge bump in people searching for rings similar to Meghan's. Web search trends suggested the same pattern would repeat again: searches for three-stone settings and cushion cut diamonds spiked in the days after Meghan's engagement to Prince Harry was announced in late November.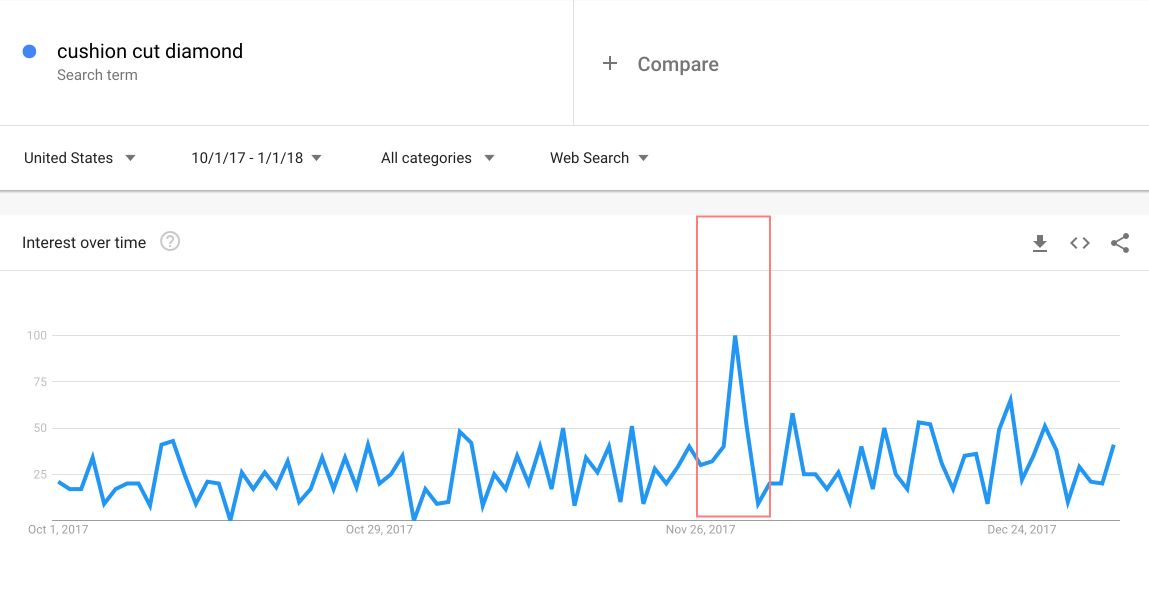 So we compared that data with the thousands of requests we received for custom wedding and engagement rings in the months before and after the announcement, to see if customers were influenced by her ring.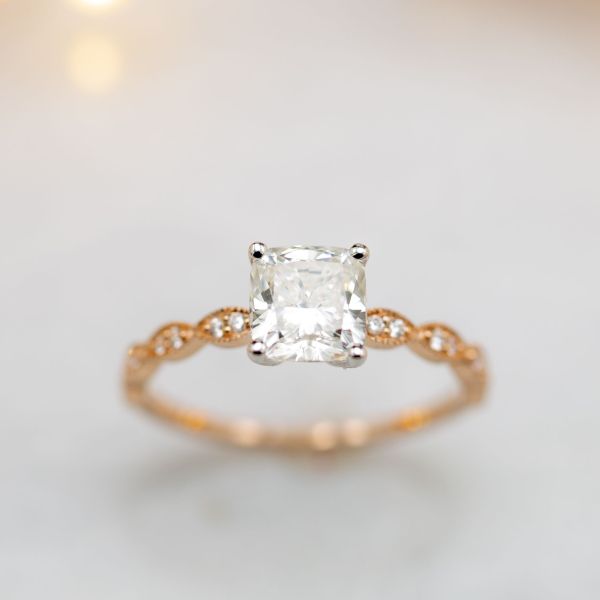 In short? A bit, but not in the way we expected. After her ring went public, we saw a modest 8% increase in requests for yellow gold rings and a 21% bump in cushion cut center stones. Interest in three-stone rings remains popular but hasn't increased since the engagement.
A shift in the meaning of value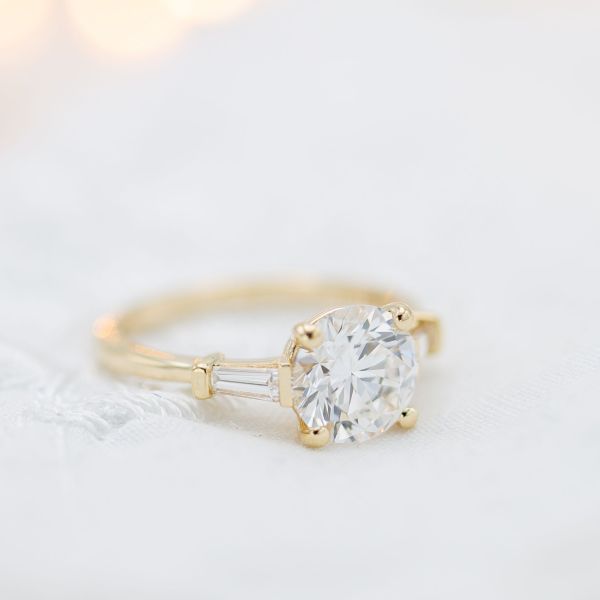 What we found most striking is how much her ring is a reflection of broader trends in the way people purchase engagement rings and wedding bands. The story and personal detail of her ring is what makes it absolutely perfect for her. Starting with the centerpiece of the ring: a cushion cut diamond he sourced from Botswana, a longtime refuge for Harry and a place that became special to both of them during a formative trip as a couple. The side stones are from the late Princess Diana's personal collection to, in Harry's words, "make sure that she's with us on this crazy journey together." And the design is one he personally worked with jewelers to create, reflecting her style and her love for yellow gold.
The result is a timeless design loaded with personal meaning. And this is a trend we've seen develop over the last decade. Customers are much more focused on the meaning behind their design. They are also far less likely to feel pressured to buy diamonds or to spend three months' salary just because it's the norm. Instead, we are seeing the trend that people are eager to put a part of themselves into the design. A growing number have family gemstones incorporated in their designs. Others include gemstones they have mined in their travels or sourced from a particular place in the world that has meaning to them.
Wearing your story
The world's attention was captured by Meghan Markle's ring, but it's the stories connected to it that will continue to have a lasting impact, more than the exact details of her ring or her diamond. Millennial engagement ring shoppers want meaningful purchases and experiences much more than symbols of status and luxury. More and more shoppers are looking for the meaningful experience of designing a ring with tons of personal detail. So Harry's choice to design an engagement ring for Meghan is right in line with this trend toward custom, personal design.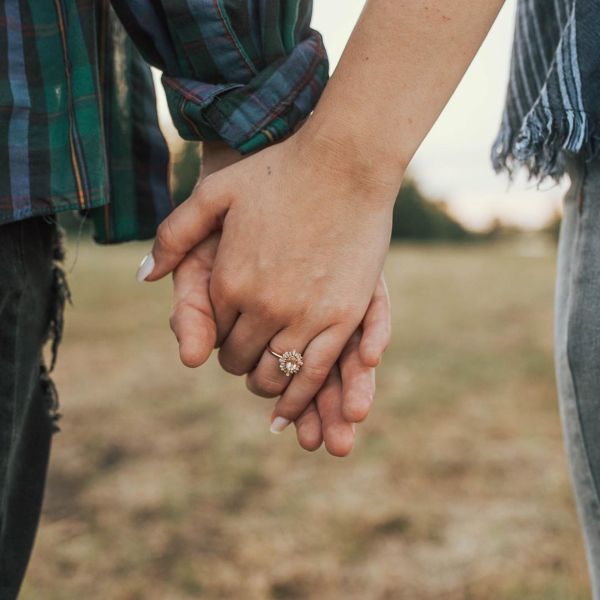 The Stories of Millennial Engagement Ring Shoppers
Every piece we design carries elements of the couple's story. The moving story of Harry's design for Meghan's engagement ring brought to mind just a few of the similar design stories our customers have put into their rings. So we collected just a few of our recent favorites!
Delicate Rose Gold With a Modern Twist
Bailey approached us with a concept for a delicate rose gold ring with a modern twist: three strands wrapping around the center stone. We found the perfect pear cut diamond for his center stone, and here's the wonderful proposal story we heard back from Makayla: "6 months ago, this gem of a human approached me about a very serious conversation piece... Daredevil comics. Now, I know what you're thinking. 'Wow, what a bunch of nerds.' And you're most probably correct there, friend. But from the moment that first conversation started, the talking, laughing, and cherishing has never stopped. And so, there we were, in a comic shop, and wouldn't ya know he drops down on one knee and asks me to marry him. I love this man!"
A Pop of Deep Red
James and Marlene are both active duty military, stationed overseas. James told us that Marlene's tastes are relatively simple and he wanted to ensure the diamond was the star of the show. Her favorite color is deep burgundy red and he wanted to include those accents in the design. Our artists sketched a couple concepts and he was drawn to one with a sleek, contemporary profile. We paired the gorgeous princess cut diamond center stone with two deep red Mozambique garnet side stones and used a pretty triple prong setting to protect the corners of the diamond while keeping the overall look light and open.
Bring Your Own Stone
Each of these customers incorporated a meaningful gemstone into their design, adding a bit of their story into the ring.