Should you opt for morganite for your center stone?
If you're looking for a pink stone for your engagement ring, you've probably come across morganite during your search. But, is it a good choice as a center stone? The short answer: yes! Many folks are just tickled pink by the champagne hues, great wearability, and reasonable price point of morganite, choosing it as a blushing alternative to white diamonds. With its delicate color and strong structure, morganite is a peachy keen and pretty in pink option for engagement ring center stones.
Reasons to choose morganite
Its bubbly blush color
If you want a stone that can bring anything from a hint of pastel color to a brighter, candied hue, morganite is an excellent choice. Aside from its lovely pinky-peach color, morganite symbolizes healing, compassion, and unconditional love, so it's a perfect stone for celebrating your union with your significant other!
When looking at different morganites, you'll find stones range from light pink to a warm peach with many hues falling somewhere in between. Morganites can also have varying levels of saturation, or just how strong and bright that pink color appears. Many wearers prefer a strong saturation, but others enjoy a subtle light hint of pink, peach, or even champagne color.
This lovely array of soft colors means morganite is also a versatile option: pale and medium pinks can provide a cooler tone for white gold or platinum pieces and peachier stones look warm and inviting in yellow or rose gold. That being said, there are no rules when it comes to setting your morganite center stone, and the varying color options can suit any setting!
It's durable enough for daily wear
While looking for a center stone for your engagement ring, it's important to choose one that can live up to your lifestyle and activity level. Luckily, morganite has great durability and is safe for daily wear, so you can choose this blushing beauty without having to worry about easy damage over time.
According to our gemstone wearability guide, morganite receives a "very good" rating, scoring well in hardness, toughness, and stability making it a well rounded choice for durability. So, if you're concerned about damaging your ring, you can rest easy knowing morganite is a solid choice that can withstand the rigors of daily wear without any need for specific protective precautions.
A quick note while we're talking about durability, most morganite is heat treated to bring out the best color. Some people wonder if this will impact its durability, but rest assured it does not! It just means your strong stone will be extra brightly colored.
It's easy to maintain
Another factor to consider is maintenance. Are you good at remembering to clean your jewelry, or do you need a stone that can maintain its appeal with minimal home cleanings? Because morganite is rather durable, it's easy to maintain at home with occasional cleanings and routine inspections. This makes it a great choice as an engagement stone for couples who want a lower maintenance pick: while your morganite may become a little dull when dirty, you'll never have to worry about that color fading over time, and it can be renewed back to its original sparkle and color with a good scrub.
For at-home cleanings, you can use warm water, a soft toothbrush, and a mild soap to give your morganite ring a bubble bath and revive its gorgeous sparkle. Easy peasy! If your ring needs a deeper clean, you can send it to us or bring it to a trusted jeweler for a deep cleaning. Your ring will come back looking like new, and you can even get a prong inspection at the same time to ensure your setting is looking spick and span!
You can get a larger stone for less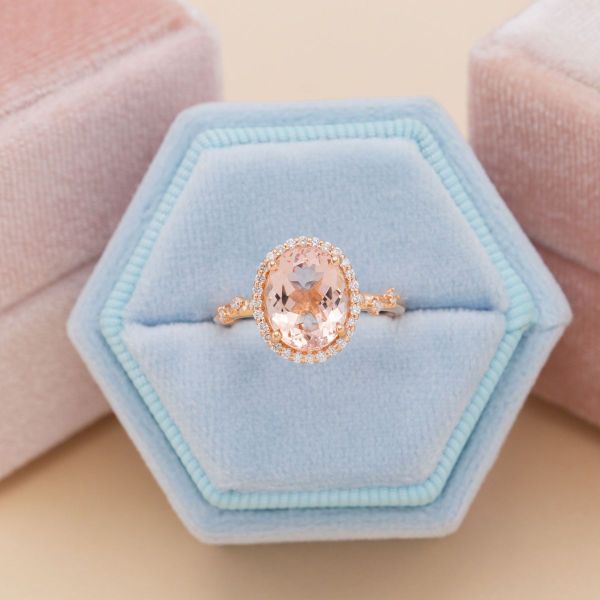 Choosing morganite for your engagement ring can be great if you want a larger stone without breaking the bank. Because morganite often grows in large crystals, it doesn't get a huge price increase per carat, so you can size up your stone without worrying about bulking up your budget too much!
So how much does morganite cost? It really depends on the combination of color and size. You can expect to spend roughly $300-$600 for a 1 carat morganite center stone, but this can vary depending on the color variation you choose. And, if you're looking to go big, you can expect to pay about $900-$1,800 for stones in the 3 carat range and $1,200-$2,400 for 4 carat stones. Not bad, right? That leaves you plenty of wiggle room for accent stones, a premium metal setting, or even more money to put toward your big day.
Alternatives
If morganite isn't quite tickling your fancy with its pretty blush hues, there are a few other pink stones to consider instead. For more vivid pink color, a pink sapphire is an excellent alternative to morganite. Pink sapphire has a slightly violet-pink hue when compared to morganite, but its saturated color offers a deeper pink aesthetic. Pink tourmaline is another pink stone that doesn't just produce one hue, but rather several varieties of pink that might better suit your fancy. Shades like magenta, baby pink, hot pink, and rose pink are all possible options when it comes to pink tourmaline.
In the 1800s, one Chinese dowager empress loved pink tourmalines so much, she bought out the entire stock of a California mine! When she died, she was laid to rest on a pink tourmaline pillow to commemorate her love for the rosy stone.
Choosing morganite for your center stone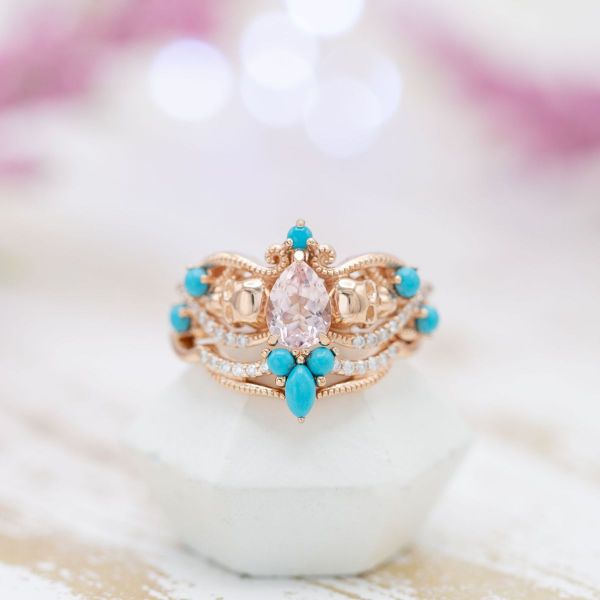 With famous beryl cousins like aquamarine and emerald, morganite carries some serious clout while also living up to the hype as a great center stone choice. Whether you're looking for just a hint of peachy color or decking yourself out in pink everything like Elle Woods (and we agree, whoever said orange is the new pink was seriously disturbed!), you're likely to find a morganite that can suit your needs. Our gem experts are here and ready to help get you started picking your perfect morganite!