Choosing your aquamarine
If you've got your sights set on aquamarine for your engagement ring's center stone, you're probably wondering how, exactly, to actually pick one out. Colored gemstones aren't like diamonds where there's a standard system of the 4Cs to help with your decision making, because so much of what makes colored stones beautiful is about the individual stone. You probably have a few questions like:
What color of blue should I be looking for?
What are the best cuts for aquamarine?
What size aquamarine should I get?
How much does aquamarine cost?
Is there anything else I should worry about, like clarity or treatment?
We'll walk you through how to choose an aquamarine like an expert! For colored gemstones, there's nothing more important than getting the exact shade you're looking for, so that's the first thing you'll want to look at.
Color
Color shade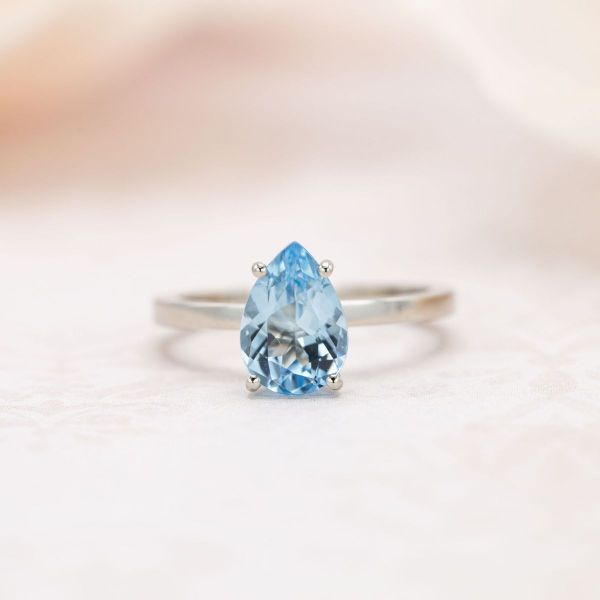 Even though the sea water that aquamarine is named for can vary in color from deep green to crystal blue, you shouldn't expect a huge variation in shades of blue for the stone itself. The sky blue color that this gem is known for is the most common shade you'll find. This color is the very reason most people who ultimately choose aquamarine decide to go with it, so generally speaking that's the color you'll want to be looking for when selecting a stone.
With that being said, every rule has an exception! Just like how "I before E except after C" doesn't hold true for "weird" or "neighbor" or "glacier" or "height" or "science," while you should expect the vast majority of aquamarine to be a pale sky blue, there are a few options for something a little bit different.
There's a very specific, deep blue variety of aquamarine called "Santa Maria aquamarine." These medium-dark toned, highly saturated blues are much more rare than a typical aquamarine. While we can help you find a Santa Maria aquamarine if your heart is set on it, their rarity makes them much more difficult to find, have fewer shape and size options, and will come with an increased price tag.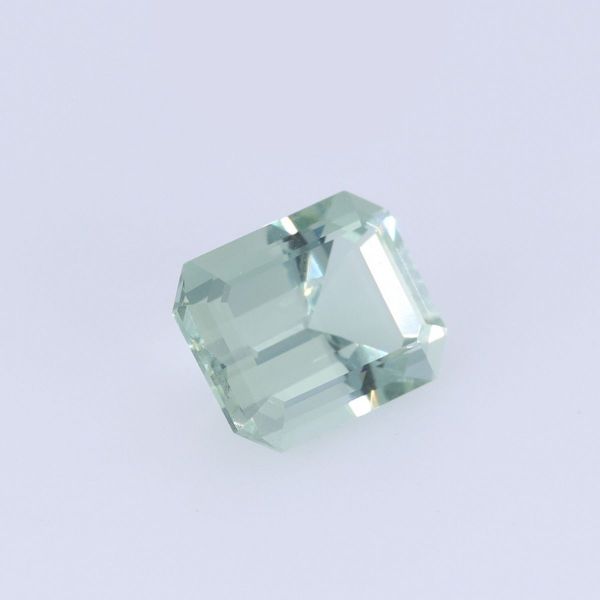 Also more difficult to find, aquamarines that aren't heat treated will give you a different color leaning more towards seafoam and less pale blue. Almost all aquamarines that are commercially available, though, are heat treated, so finding one that's untreated might be a bit of a struggle. Why are these gemstones treated with heat instead of left in their natural seafoam state? To achieve that pale blue color the stone has become known for and that buyers have traditionally preferred. While not impossible to find an unheated stone, it will require a bit more time and effort.
Unless you're looking specifically for those "rule breaking" Santa Maria or unheated aquamarines, the general rule of thumb is to look for a stone in the sky blue color you're familiar with. That's not to say all are the same, though! Because while the general color of aquamarine stays the same, the saturation of that color can vary drastically.
Color saturation
If you really want to understand the nuances between different aquamarines and find the one that fits your vision, you'll need to consider the color saturation. Saturation refers to the intensity of color, or the difference between just a hint of blue in an aquamarine or a deep concentration.
A light saturation refers to a light blue that's milder and almost errs on the side of clear with just that slight hint of color. Meanwhile a strong saturation refers to an aquamarine that appears more vivid and has more overall blue appearance to it.
Medium/strong is our most popular color intensity for aquamarine and is most typical for a high-quality stone, but which saturation you pick really comes down to personal preference.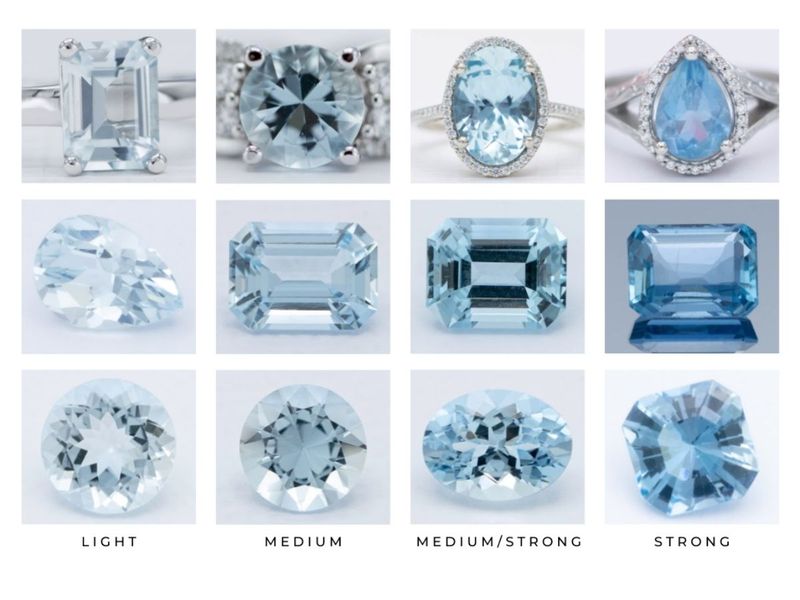 Shape
Once you've decided the saturation of your aquamarine, it's time to choose the right shape.
Fancy shapes highlight aquamarine's beautiful color
If you've read the 4Cs of diamond buying, you probably know that cut is one of the most important factors when it comes to selecting that particular stone. In the case of aquamarine? You might be surprised to hear that cut isn't a make-or-break factor in the same way it is for diamonds. Why? Where diamonds are all about sparkle and the science behind getting that perfect cut to create the best shine, cut for colored gems is all about showcasing those beautiful hues.
Think of cut for diamonds trying to achieve the perfect beam of light similar to when the sun hits the screen of your phone in just the right direction and sends a spot of light onto the wall (that your cat inevitably chases). With diamonds, it's all about getting those perfect, uniform angles to get the most sparkle.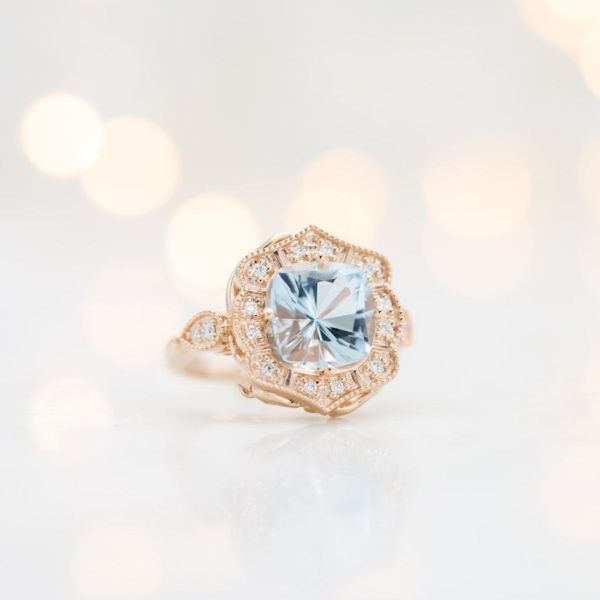 Cut for colored gemstones like aquamarine and sapphire, on the other hand, is all about what makes them unique: the color. Where all diamonds aim to be colorless and therefore are cut to get all that sparkle, cut can vary from stone to stone for colored gems to best showcase the color of that particular crystal.
While a critical part of picking a round diamond is having that official excellent cut grade from GIA, for aquamarine and other colored gemstones, grading on cut hardly exists. So when you're looking at cut for aquamarine, you shouldn't try to base it on any sort of rating and instead focus on how it looks to you. Is it cut in a way that really enhances the color? If it's a fancy shape like an emerald cut aquamarine (not to be confused with an emerald gemstone), does it look symmetrical? Beyond it looking good to you, you can leave the specifics of finding a great cut (things like how well light passes through or if it gets "stuck" and causes dark spots) up to our gem experts.
When it comes to choosing a cut for optimum color, one aspect is how long the light spends bouncing around in the stone. The longer light spends inside and bouncing around, the more color it will return; if it just quickly comes in and out like with a round cut for diamonds, it's not showing as much color. A cut with lots of faceting like a cushion will show the most color because the light has plenty of edges to bounce off of and spends longer in the stone.
Even though any cut of aquamarine looks beautiful, this stone shows the most color when not in a round cut. This means step-cut designs, like an emerald or baguette cut, or other fancy cuts, like cushion or oval, really show off an aquamarine's color. Ultimately, while certain cuts will show more or less color for aquamarine, the shape you go with is really up to your personal preference.
Similar to its pinky-peach beryl-family sister, morganite, clarity is of little concern for aquamarine. We're not saying you shouldn't be looking for stones free of inclusions to the naked eye, given aquamarine's light color. But aquamarine often naturally forms in clean crystals, meaning inclusions are rare, so it's not something you'll have to worry too much about.
Size
With saturation and shape down, let's talk about size. While we're sure you're used to thinking about gemstone size in terms of diamonds — the bigger the size the exponentially more expensive it gets — don't be afraid to think big with aquamarine!
Did you know that carat is actually a measure of weight, and not size? Most of us are just so used to seeing what a one carat (1ct) diamond looks like that we assume all 1ct gemstones are the same size. When looking at a 1 ct round diamond, it'll measure roughly 6mm across. A 1ct aquamarine, on the other hand, is closer to 6.5mm across, so actually a little bit bigger for the same weight.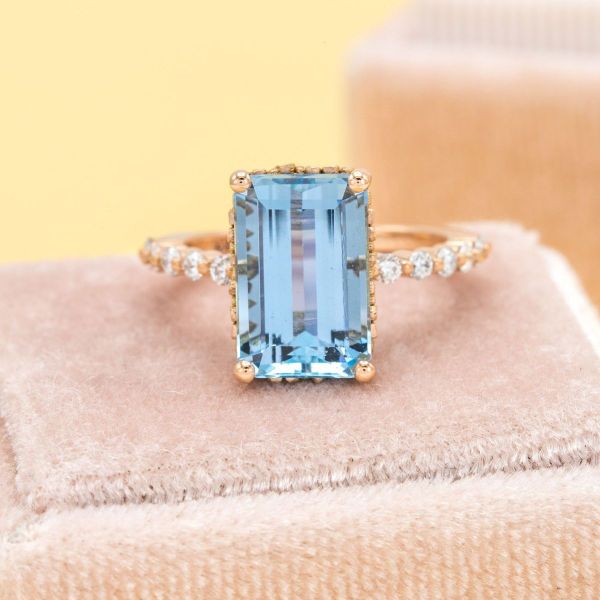 We sell plenty of aquamarines for center stones ranging from 1-2ct, with sizes both smaller and larger not being uncommon. One of the many great things about aquamarine is that its price doesn't go up dramatically with each carat size. Because it already grows in large crystals, bigger sizes are common and relatively affordable, especially compared to large diamonds.
In fact, we might even encourage you to explore the option of a larger center stone because with a lighter stone like aquamarine, the larger the gem the more vivid the stone will appear. Since there's more gemstone for the light to travel through in a larger stone, the color of an aquamarine becomes more saturated for bigger gems.
Price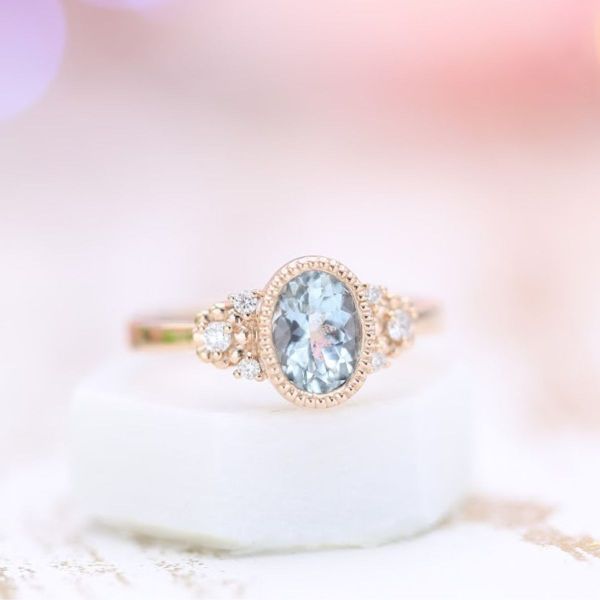 A typical aquamarine center stone will cost between $300 and $1,500. Of course the cost will ultimately depend on many of those nitty-gritty details, such as the cut you go with, size, and maybe most impactful is the stone itself that you choose. A more vivid color saturation will cost you more than something a bit more subdued. Remember the Santa Maria aquamarine? Its vivid, electric blue comes with an even heftier price tag. On the other end of the spectrum, aquamarines that are lighter in saturation will be less expensive, showing just a light tint of blue.
As a general rule, for a typical high-quality aquamarine you can expect to pay $250-$700 for a stone under 1ct. For 1-2ct center stones, expect to pay $500-$1,000, and 2ct or more will have you looking around $900-$2,000 depending on the size.
Other factors to consider
Setting styles
Because it's the best of both worlds, offering a hint of color but still remaining neutral enough to match really anything, aquamarine is a super versatile stone that looks great in a wide range of setting styles.
If you're not sure where to start, here are a few recommendations:
White gold and platinum settings look great with aquamarine because the cool toned metal reflects off of the stone, amplifying its cool sky blue color.
Diamond halos and accent stones are another great way to enhance the look and color of a center aquamarine. Colorless diamonds give an eye-catching sparkle and contrast between the blue of the aquamarine, highlighting the gorgeous color of the center stone.
Aquamarine might be too light for small accents
If you're looking to aquamarine in hopes of adding a pop of color through accent stones, you first might want to consider just how small you're thinking. We're no stranger to aquamarine as an accent, but if you're going down that road you want to keep the stones big enough so you can still see that color you're after.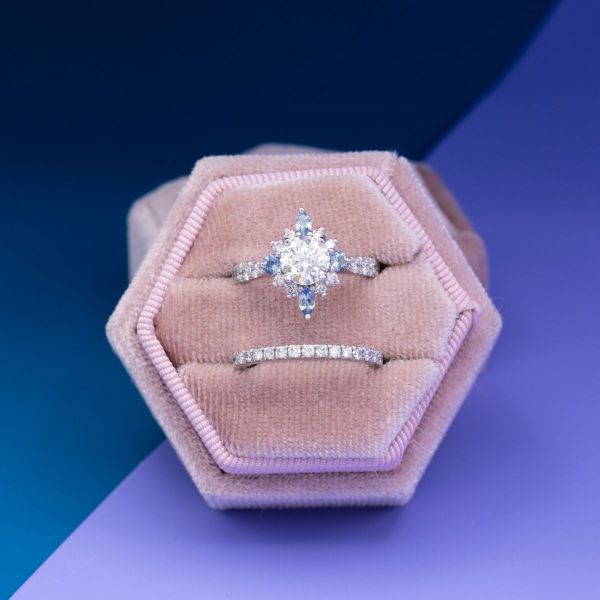 If you're thinking of super small accents for a dainty halo or are wanting a deep blue, you're better off looking at brighter blue stones that hold more vivid color than this light-toned gem. All gems start to look lighter as they get smaller, and aquamarine is no exception. Because it is already a naturally light stone, smaller aquamarine stones will appear nearly colorless rather than that pop of sky blue color you might be imagining. If you're looking for a light blue accent stone, we recommend taking a look at blue sapphire to ensure you're attaining that saturated blue.
Caring for your aquamarine engagement ring
Whether you've decided on a tougher-than-nails diamond or a more delicate opal for your engagement ring center stone, all gems need a little routine love. Aquamarine is durable, but you should still store your ring away from other, tougher jewelry that could scratch the stone.
It's always a good idea to take off your ring when cleaning, exercising, showering, or anything that exposes your aquamarine to chemicals, dirt, and oil. Not only will this ensure your unique stone stays safe from scratching, but keeps it sparkly and bright for longer between cleanings.
Speaking of cleaning, it's best to clean your ring at home on a monthly schedule. All you have to do is let your ring soak for a little bit in a mixture of dish soap and warm water, gently scrubbing it with a soft toothbrush until all the dirt and grime build up is gone. Dry it with a lint-free towel or microfiber cloth and voila! You're good to go.
You should plan to take your ring to the jeweler for a checkup every six to 12 months. This generally includes a thorough cleaning and quick check to make sure all the prongs around the center stone are snug. White gold rings might also benefit from a new coat of rhodium plating from time to time, bringing the metal shine back to life. For any metal material, after five or 10 years, worn down prongs might need to be rebuilt just to make sure your aquamarine is secure for another decade. The best news? If you bought your ring through us, we offer professional cleaning and maintenance services for your custom piece.
Review individual stones
From color to shape to size and price, we've given you a lot to consider when choosing an aquamarine for your engagement ring center stone. At the end of the day, while all of this information can be helpful for guiding your selection, what really matters most is choosing the stone that looks right to you and just gives you "that feeling."
Make sure you're selecting the actual, individual aquamarine stone: if you're buying based on just a stock photo, you can't truly be sure what you're going to get. We photograph all of our gemstones in a controlled environment specifically meant to show the stone's true-to-life color, so you can find the stone that's right for you.
There's no right or wrong for which aquamarine stone you end up going with. Like finding your forever-partner, you'll just know when you've found "the one." Ready to get started selecting your aquamarine and designing the perfect engagement ring? Click here to connect with us and get started!