Morganite is a great engagement ring stone that's durable enough for the rigors of everyday wear. All gemstones require some basic precautions to avoid damage and periodic maintenance to stay looking like new — but with the right care, your morganite will last a lifetime! This guide goes into more detail on wearability and cleaning. Check out our other articles for help with morganite selection and examples of completed morganite engagement rings.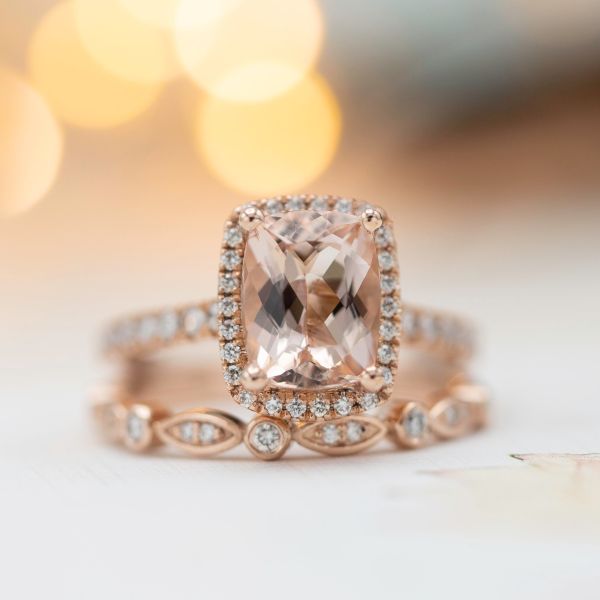 Wearability
Our wearability grading system
At CustomMade, we work with over 40 different types of gemstones and have developed a unique expertise in their durability. We were frustrated by the lack of a comprehensive gemstone wearability grading system, so we developed our own! Our grading incorporates more than just the traditional Mohs hardness scale — also taking into account toughness (resistance to blows), cleavage (how easily the gem will split at angles of the crystal structure), porosity, and sensitivity to chemicals. Stones with very good or excellent wearability ratings make great choices for everyday wear in engagement rings. Less durable stones can also work well, but require a bit more care. Take a look at our gemstone wearability guide to learn more.
Morganite's wearability rating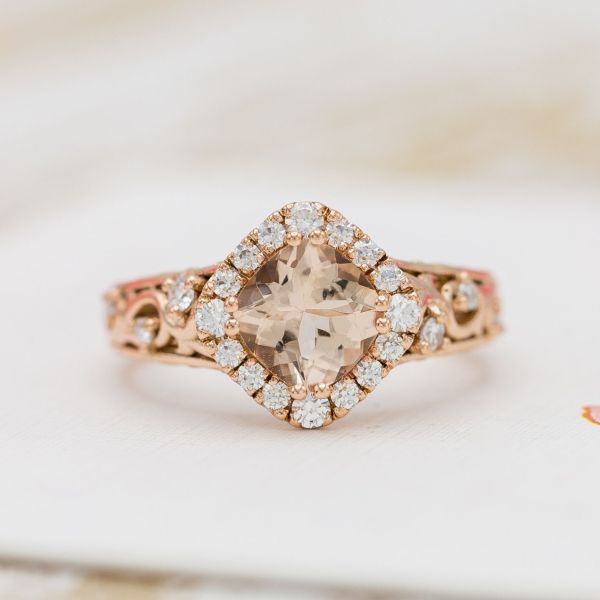 Morganite scores a 'very good' wearability ranking. It is resistant to both scratching and chipping. It is suitable for daily wear in rings with any setting style without major precautions. As with all jewelry, it is best to take off morganite rings before sports or other activities that put the gem at risk of taking hard blows.
Hardness
The Mohs scale of mineral hardness ranks substances from 0–10 based on their ability to withstand scratches. It is the most widely cited measure of gemstone durability and is the most important input into our wearability scale. As a general rule, gems are highly resistant to scratches from any substance with a lower Mohs hardness. For practical purposes, the most important distinction is whether or not a gem is rated 7 or above on the Mohs scale. Quartz is present in most household dust and has a Mohs hardness of 7. Just brushing dust off of gems with hardness below 7 can be enough to cause micro scratches.
Morganite has a Mohs hardness rating of 7.5 - 8. Stones like morganite, with Mohs hardness of 7 or higher, won't be damaged by dust and thus stay looking like new for much longer. You can see how Morganite's hardness compares to a few other popular center stones (or compare it to many other gems in our gem hardness chart):
Excellent scratch resistance
Mohs hardness 8.5 - 10
Very good scratch resistance
Mohs hardness 7 - 8
Delicate scratch resistance
Mohs hardness 2.5 - 6.5
Does morganite get cloudy?
Over time, dirt and oils build up on all gemstones, and morganite is no different. Sparkle is an important part of morganite's charm and a dirty stone is a sure way to reduce sparkle. If you go too long without cleaning your ring, your morganite will start to appear faded or cloudy. Don't worry, there's no permanent damage to your stone. After a good cleaning your morganite will shine like new!
chevron_left
chevron_right
How to clean morganite jewelry
Morganite is simple to clean. As you see in the pictures above, we recommend soaking your morganite jewelry in warm water with a jewelry cleaner or mild dish soap and then using a toothbrush to clean out nooks and crannies. A home cleaning usually does the trick, but if your ring is particularly dirty you can send it in to us for a professional steam cleaning.