Is aquamarine the right choice for your center stone?
Aquamarine offers a subtle and sophisticated pop of color for folks looking for something outside the diamond-norm for their engagement ring. If you're wanting to add a touch of color but aren't sold on the deep green shades of emerald or want something more durable than a fiery opal, an aquamarine engagement ring might be for you!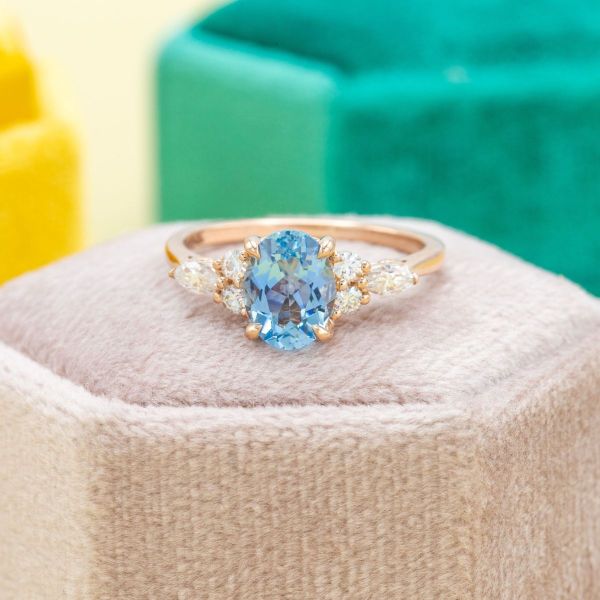 This gem's name comes from the Latin phrase "aqua marinus" meaning "water of the sea," and that's exactly the shade of blue you can expect for most of these sky-colored beauties. Because of its name, aquamarine is strongly connected to the sea, traditionally thought to protect sailors and fishermen during their travels. Today, aquamarine's meaning represents calm waves and crystal waters, encouraging inner peace and soothing thoughts for its wearers.
But there's much more to aquamarine than its ocean-kissed folklore, so let's grab our flippers and snorkels and dive into the many reasons it can make a great center stone for your engagement ring!
Why you should choose an aquamarine
Aquamarine has great scratch resistance
Something important to take into consideration when looking at possible center stones is the hardness of a gem, or how resistant it is to scratching. Why? Well, you intend to wear this ring every day for the rest of your life - you ought to know if it'll scratch easily. That can make the difference between a ring you're constantly worried about keeping out of harm's way and one you'll enjoy wearing without concern.
Luckily, aquamarine comes in at 7.5-8 on the Mohs scale of hardness. Diamonds are the only gem that make the cut to receive the highest score of 10, meaning they can only be scratched by other diamonds. This is very likely one of the main reasons they are the most common engagement ring stone. Don't worry too much about aquamarine not meeting diamond's perfect 10 score, because the 7-8 range still puts this gem at great scratch resistance. That hardness range also makes aquamarine resistant to small particles of quartz (a 7 on the Mohs scale) which is common in household dust and one of the sneakiest ways softer gemstones can become dull sooner rather than later.
Even though it has great scratch resistance, you should still be careful when wearing an aquamarine ring as it doesn't have quite the resistance as some harder stones like ruby, sapphire, moissanite, and of course diamond. While aquamarine is perfectly suitable for regular everyday wear, you should still be mindful to not bang it all willy-nilly, just as you would with any piece of jewelry!
Did you know that aquamarine and morganite and emerald are cousins? They're all beryls, and so even though they sit in different places on the color wheel they have the same scratch resistance and durability characteristics. The more you know!
Their unique, pale blue color
Let's talk about what likely drew you to consider aquamarine for a center stone choice in the first place: its beautiful sky blue color. The pale blue shade of aquamarine is the perfect in-between of a light, sparkly look that matches any taste like a diamond does but also gives a subtle pop of color and individuality.
chevron_left
chevron_right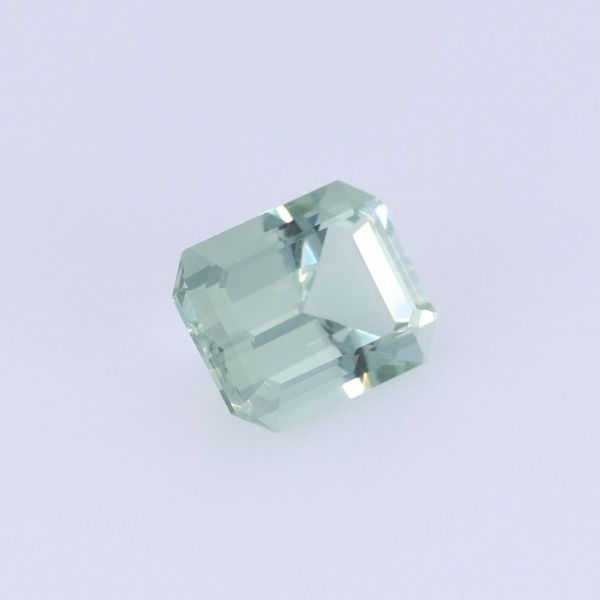 While the sea water that aquamarine is named for varies in color, from the dark green Atlantic Ocean off the coast of Maine to the crystal blue waters surrounding Hawaii, you shouldn't expect to find such a range with aquamarine. Instead, expect that light blue water-color you'd see in a tropical sea, somewhere you'd go beachside to sip strawberry daiquiris and snorkel. There are rarer aquamarines that can be found in a more green hue, so if your sights are set on one of these one of our gem experts would be more than happy to help you out!
Where you will find the most variation dealing with the color of aquamarine isn't so much with the shade itself, but instead the saturation. While aquamarine will almost always be that beautiful pale blue we're all familiar with, the variance comes with just how intense that color is. Is it a light saturation with just the slightest hint of blue, or a deeper saturation where the blue is more concentrated? So while you've come to aquamarine for its sky color, you still have some choice with just how saturated that blue will be.
chevron_left
chevron_right
They look great in any cut
Where diamonds look their best in a brilliant round cut, aquamarine looks great in any shape! Aquamarine is beautiful in a round cut, but it looks even better in fancy cuts like oval, pear, or princess. The very reason diamonds don't sparkle as much in these fancy shapes is exactly why aquamarine thrives in them. Forgoing the perfectly symmetrical shape of a round cut for something with corners or different length edges gives the light more time to move around in the aquamarine, picking up more of the sky blue color and bouncing it back at you. Because we aren't aiming for a colorless appearance here, we want light to spend more time in the stone picking up color, so fancy cuts like cushion or oval can actually work to aquamarine's advantage.
Clarity is also of little concern for aquamarine because it often forms in large, clean crystals. Clean formation means inclusions are rare, so aquamarines naturally have great clarity which means you can expect every aquamarine our gem experts show you to be perfectly eye clean.
They are versatile for many settings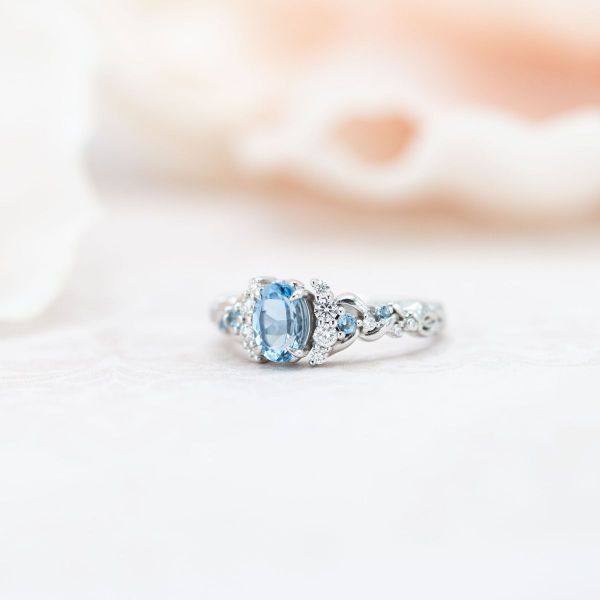 Aquamarines are super versatile when it comes to setting styles because they rock a light, neutral color. White gold and platinum settings look great with aquamarine because the cool toned metal reflects the color in the stone, amplifying the blue tones. Diamond halos and accent stones also look great when supporting an aquamarine, enhancing the blue color of the center stone compared to the colorless surrounding diamonds.
A larger size doesn't mean a higher cost
With color, cut, and clarity covered, let's move on to our fourth C: size!...er…carat. Let's not get confused here: while you can certainly use the 4Cs of diamond buying to glean your guidance when looking for a colored gemstone, keep in mind that those four areas will have much different standards for colored stones compared to diamonds.
While the 4Cs suggest that the higher the carat (ct), the more expensive a diamond will be, that doesn't hold true for aquamarine. For this sky blue stone, don't be afraid to go big! Where most gemstones see a hefty price jump with each magic number increase in carat size, aquamarine already grows in large crystals, so bigger sizes are relatively affordable.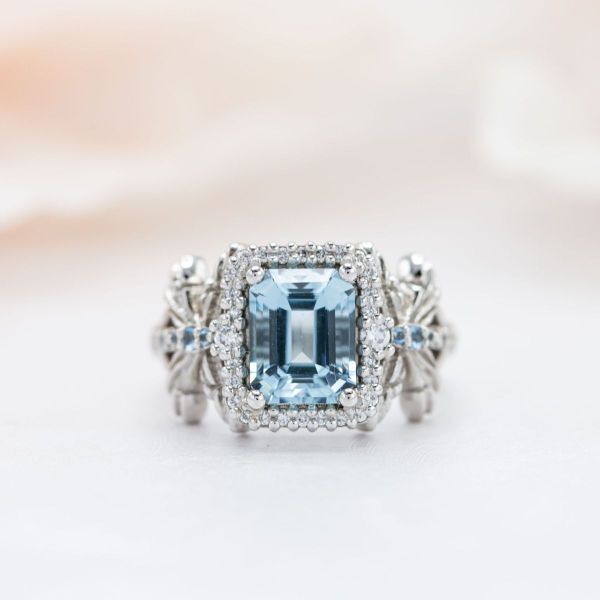 In fact, according to the International Gem Society (IGS), aquamarine cuts over 25ct will actually have a lower price per carat than smaller aquamarine stones of the same quality. We wouldn't necessarily recommend a 25ct center stone (after all, your hand would get awfully tired carrying all that weight!), we say to follow your dreams and get the size you want! Sure, you may have to hire a small army to help lift your hand anytime someone asks to see your ring, but that's a small price to pay for the ring of your dreams.
While 25ct isn't everyone's cup of tea, you'll find with aquamarine that larger stones actually showcase more vivid color than smaller cuts from the same crystal. Since there's more gemstone, there's more space for light to travel throughout the stone and strengthen the color, giving it a stronger saturation, which is the whole reason you're looking at an aquamarine, right? For the color?
Alternatives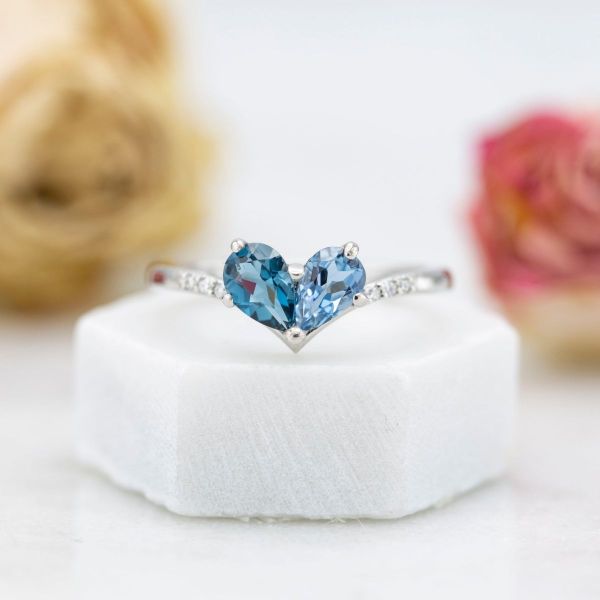 If you know you want a blue stone (perhaps to serve as your "something blue" on the wedding day?) but aren't quite sold on the pale color of aquamarine, there are a few alternatives you can consider. Blue sapphire will give you the most vivid color and variety of blue for those looking for something a bit darker in the cobalt family. Irradiated blue topaz is another inexpensive and durable option for those seeking a brighter blue, and a color-treated blue diamond will give you the hardest and most sparkly option, though it will cost you a pretty penny compared to the more affordable options.
Conclusion
Why we love aquamarine
Aquamarine is a beautiful and affordable choice for engagement rings, with the cost of a typical center stone ranging between $300 and $1,500. They bring a pop of color without straying too far from the bright, clear look of diamonds, and these sky blue beauties give just the right amount of color while still maintaining a subtle look for those seeking something just on the cusp of neutral. So is this durable, unique, and beautiful gem the right choice for your engagement ring? We sure think so, but it's up to you to decide!