Men's Silver Personalized Initial Ring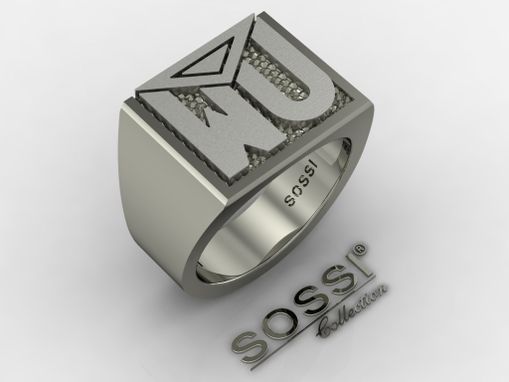 This handsome and personalized initial ring is made with pure none tarnish silver. It has a beautiful high polish finish and it has a nice hand engraved texture finish between the initials.

All of our products are handmade
by expert makers.
David M.'s review

• Jun 4th 2017

I recently ordered a custom made silver ring with my children's initials. The ring is similar and I was inspired to have a ring similar to the ring in "Sons of Anarchy". I picked out my font, and some very neat designs and asked Sossi to help with the layout and design. She was an absolute pleasure to work with and kept me up to date on a weekly basis. She sent pictures of progress, was open to feedback, made changes, and just handled the whole project like she was sitting in front of me. The personalization and ring was unique and truly "CUSTOMMADE" and I feel so lucky to have Sossi take on the task. Although I live in another state I feel I have my own personal jeweler to work on anything from simple tasks like resizing, putting new clasps on necklaces, to making an imagination in my head a reality that I can wear. Describing in words how pleased I am would still not give true justice to the work she does.

The next day I wore my new ring to work and literally had countless people comment on her work and asked how to get in contact with her. I only wish I had a box of business cards that I could have passed out for each person wanting to know how she made it, and where they could reach her. In summary I cant describe the pleasure it was to work with her as it would never be enough positive things to say and then have the validation of her work by my coworkers and some strangers on how to get in contact with her to make thier dreams come to life. I have already reached out to her for another project and she readily accepted and started on it. My only regret is that the stars above only go to 5 and if I could customize my own survey she would be a 10.

Thank you again Sossi, I love everything about working with you and appreciate the time you took to explain things as it progressed from one stage to the next. You set the bar for other jewelers to match and I am so grateful to have you as my jeweler forever. THANK YOU AGAIN FOR THE BEST EXPERIENCE AND FOR THE HIGHEST QUALITY OF WORK I HAVE EVER WITNESSED.

Douglas P.'s review

• Oct 20th 2015

Let me start by saying that Sossi was an absolute pleasure to work with. The communication throughout this project was at the highest level. Sossi took the time to listen to me In order to get a full understanding of exactly what I was looking for before starting the project. She was patient and very creative in the design ideas she shared with me. The final product was beyond my expectation and she kept me fully abreast of all stages of the project. Sossi made the entire process, not only smooth, but easy.
I HIGHLY recommend Sossi. She is a terrific Designer. You won't be disappointed.